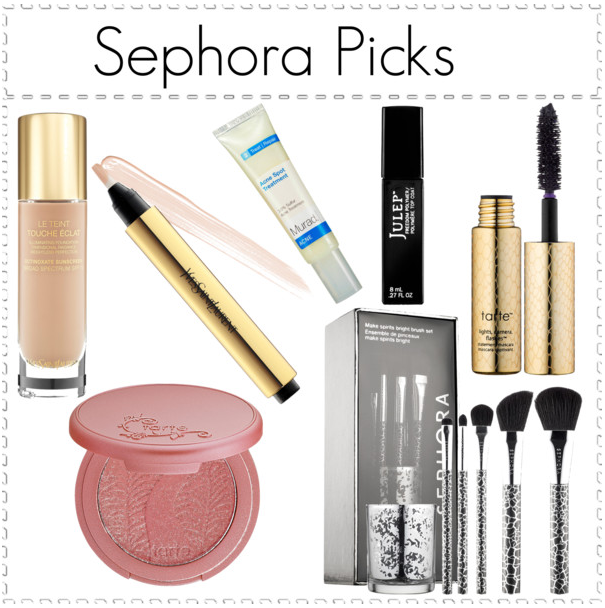 So I got a little excited during Sephora's VIB sale last week and was originally on the site to buy new Tarte blush. When I saw the VIB sale was going on for 20% off everything, I decided it was time to make a few more purchases.
I ordered the YSL Le Teint Touche Eclat foundation and YSL Touche Eclat as I have heard amazing things about both. I needed new foundation and while I really like Loreal LUMI True Match foundation, I was looking for something with a similar texture/application, but that lasts all day. I tried the foundation last night and LOVED it. Felt great on my skin, blended in well and lasted all night. Now to test it throughout a whole day, work and evening. And let's be honest YSL's Touche Eclat is just amazing. I think it is a new must-have beauty product for me, even if it is a little pricey. Used it last night and it really brightened up my eyes.
I LOVE Tarte blush. Seriously, I have tried other blushes and the only thing that comes close is NARS, but still in love with the Tarte blush colors. I just purchased Tarte Amazonian blush in Dazzled, but also love Amused and Exposed (my two previous purchases). The Dazzled color almost works as a bronzer as well, with light sweeps across the face.
I have been wanting to try out a brush set FOREVER. I only use brushes to apply my eyeshadow/fill in my brows, but have always wanted to try foundation brushes. I have read so many reviews on what's best, etc. etc. but decided to start off with this Sephora kit. It seems pretty basic with a powder, foundation, crease, shadow and smudge brush, and an adorable glass votive that holds all the brushes in place on my bathroom counter top. I might upgrade to a bigger set, but want to experiment with how to use brushes first before going to a more advanced kit! Any advice on how to use these brushes would be much appreciated!
I also purchased the 30-day ance kit from Murad. I have heard so many great things and have yet to find the perfect cleanser/lotion for my oily, acne-prone skin. I used Cetaphil for a long time and am now using Burt's Bees and while I loved both, it never equaled perfectly clear skin. I am using Aczone and taking Spironolactone for my skin and after a few months of use together, my skin is clearer than it has been in years, which is really exciting for me (I have had horrible acne and breakouts for over 7 years). Now I just want my beauty routine to help aid in less breakouts. I break out from stress, and so I believe if I use a system like Murad, I might be able to help with these as well. I have only used this one day but already LOVE the day and night lotions in the kit. They absorb quickly and make my skin feel really smooth. The cleanser is also nice, no strong scents and gentle. I was hesitant to use my Aczone with the Exfoliating Acne Treatment Gel, but they seem to work together just fine. Obviously, I cannot give a full, accurate review until the month is up, but I'm hopeful for good results!
And then FREE SAMPLES! I had over 200 points, so I chose a sample of Tarte's Ready, Set, Flashes mascara and Julep's Top Coat. I used Tarte's mascara last night and loved it. The brush is amazing and it made my lashes look full. The proof is here. Seriously, my lashes rarely ever look that way.