There are many places that you can enjoy rock climbing. Europe, in my opinion, offers the best destinations for rock climbing aficionados. What is more, while you get to enjoy the adrenaline action, you will also have the opportunity to explore your gorgeous surroundings. What could be more perfect? You can combine your love of climbing with a landmark hopping excursion around the continent: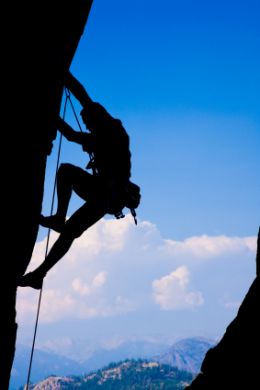 Spain
Spain is a melting pot of activity. From the bustling city life of Barcelona to the rolling hills of El Chorro, you are truly spoilt for choice in Spain. What is more, El Chorro and Costa Blanca are perfect for those who wish to indulge in a spot of rock climbing in the searing Spanish sun. When you have finished climbing your way around Spain, you can stop for tapas and sangria in a local taverna. After all, you will have earned your rest!
Switzerland
Switzerland isn't all about skiing; there are also some seriously fabulous rock climbing destinations for you to get stuck into. As Switzerland is located in the Alps, this makes it perfect for mountainous areas. What is more, there is an enormous variety of rocks for all abilities, ranging from granite to limestone meaning that everyone can get involved. Of course, should you have had your fill of rock climbing, you can also partake in skiing. Variety, as they say, is the spice of life.
England
Blighty is home to a plethora of museums and amazing historical places of interest. But, did you know that England is also home to a wide range of rock climbing beauty spots? What is more, England offers different types of rock climbing activities, including bouldering and deep water soloing. Year on year, many tourists flock to the tiny island to get stuck into the rock climbing. Both beginners and advanced climbers will have many options when choosing England as their rock climbing destination of choice, due to the geological make-up of the UK. Should you need more information on specialist insurance while rock climbing in the UK, then contact the experts at Protectivity Insurance.
Greece
While Greece may have been the birthplace of democracy, as well as being the home of the world's most famous philosophers, there is so much more to Greece that its culture and history. Some of the best rock climbing spots are found in mainland Greece. So, if you are something of a culture vulture and you want to soak up the beautiful Greek sun, you will certainly enjoy this destination. Just be careful not to overdo the ouzo!
Sardinia
Rock climbing in Sardinia is wildly popular due to its location. Cala Gonone is made of limestone, which makes it perfect for climbers of all abilities. Multipitch climbing is available for avid climbers in Isili and Domusnovas. What is more, Sardinia is a truly stunning location. Imagine postcard perfect views, beautiful warm climes and amazing, delicious cuisine. You could indulge in the local red wine once you have completed your European tour.
This is a guest post, as always all opinions are 100% my own.