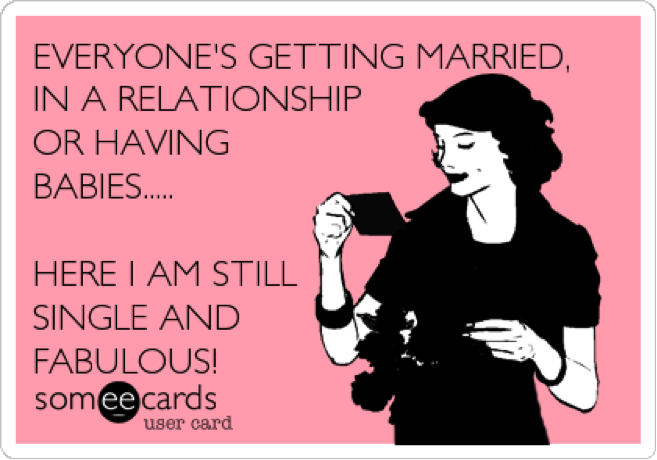 "Two roads diverged in a wood, and I —
I took the one less traveled by,
And that has made all the difference."
I absolutely LOVE Robert Frost, and the above line is from one of his most famous poems. It also really speaks to me and my life at this point.
According to Facebook, I am behind my peers in the sense that I am not engaged, married or have a baby (or am currently pregnant). At age 26, I am one of few left in the single check box. I guess technically those engaged also still mark the single check box for official forms, but as I've gotten older I am starting to sense a "gap."
The gap that starts to form in groups of friends and peers between single, dating, engaged, married and having babies. Suddenly, it is harder to find things in common and those of us single or dating do not understand the priorities of life. Suddenly someone like me, a straight A student through high school and college, the overachiever who works hard, but plays harder is irresponsible, reckless and simply could not understand what it is like to save up money for a wedding, a honeymoon, a baby or a child's future. Having fun equals a meaningless, sad and lonely life because obviously you party and spend money to fill a void in your life. Having fun means you have no sense of finances or money. Having fun means you haven't moved on from college life. Because come on GUYS you should definitely be married by now if you're my age and being married automatically makes you a responsible person with morals!
Okay… some of these examples are a little extreme, but it all comes back to society and the way we view life through society's eyes. At 18, most people in the United States are expected to go to a four-year university. Our parents only want the best for us, so continuing our education is the right path to success. By 22, we should have graduated if on the "correct" path and are expected to find a stable job in the degree we graduated with.
And somewhere between 22 and 26 we are supposed to settle down and start a family. Apparently? I don't know where it is written down, but being in a serious relationship at 26 with a guy who is 28, I am constantly being asked when he is going to propose and when I am going to get married. Sometimes I get caught up in it and think, why aren't we married yet? And then I come back to reality. I am perfectly happy right now, as am, in my relationship. I have a LOT of goals and dreams that I want to accomplish before even thinking of starting a family. And for all I know, my boyfriend could propose tomorrow, or in six months or in over a year, I just don't know. And of course I care, we have talked about marriage and our future, but right now, we are living in the present. Happy with where we are at!
Anyway, back to my point… I feel like their is this judgment between people in different stages of life. That the single people are "irresponsible party animals," that the engaged ones might be "getting married too soon," that the married ones are "boring," and that those with children "will never have fun again." Why do we do this? Can't we all be happy for each other regardless of what stage of life we are in? All I'm saying is that I don't want people to judge me for where I am in life. If I'm happy, why does it matter?
I just get so sick of seeing people place societal pressure on others. Let's allow people to discover who they are and help them only if they really need it. Being there for someone and being encouraging is a much better option than recommending where they should be in their life at this point.
Have you ever noticed this "gap" or been judged for where you are in your relationship status? What are your thoughts?