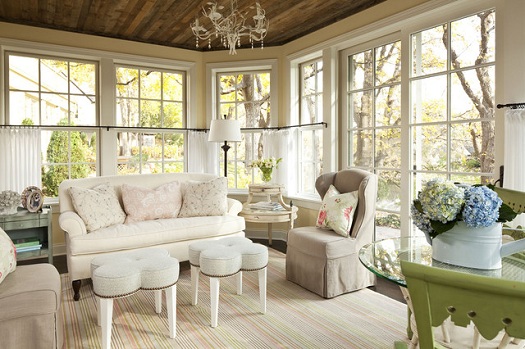 The always-popular country cottage look conveys simplicity, utility and cheeriness, and can be the perfect counter-balance for a busy, modern life.
Contemporary décor is plain and unaffected. It's a mere ornament, not a distraction. In the fast-paced modern world, we're not meant to look around us too much. We no longer have time to pore over the intricate carved scrollwork of antique chests or the delicate patina of the table we eat from. We spend too much time focusing on what we want, and not enough to simply stop and enjoy what we have. It's time to reclaim your life, and to create a haven that you want to pause and look around every so often.
We all want to escape the Ikea flat-packs, clean lines and startlingly white walls of contemporary life, so reminiscent of office décor, but most of us don't know how to, so here are some tips to help conjure the simple yet homely interior of an olden-day country cottage:
1. Muted Color Palette
The color palette for your room should be muted and gentle, as if faded by time, giving it a soft light which is easy on the eyes and not blindingly bright. Choose creamy whites, buttery yellows and lamb's ear green over bolder, brighter versions.
2. Charming Storage
Typically small and short on storage space, country cottages were often outfitted with cupboards and armoires to pack away the essentials, and this is a key element when recreating country cottage style. Even if your home has built-in storage, look at flea markets and antique sales for furniture pieces to re-create the look. Choose them based purely on their aesthetic appeal, making sure that each piece is an item which you enjoy looking at. Find a pie safe to stack your dishes in, or a wooden trunk to store your linens. Consider looking for open shelves for the kitchen and bathroom, rather than cabinetry, so you can display your everyday essentials alongside pretty country accessories. Modern-day gadgets should be tucked away behind the character-filled doors of a weathered cabinet from time to time, so that you can turn off the gadgets and allow yourself to switch off too.
3. Age is Beauty
The comfort of a country cottage comes from the timeworn patina of age, so intersperse replicas with at least a couple of authentic antiques. In a humble cottage, hard-used wood furniture wears many coats of paint, with chips and worn spots revealing the layers, so don't shy away from pieces displaying a little wear and tear – this hints at the people who have come before you. Modern-day touches should be hand-crafted, and possess the same elegant, expertly-designed character of olden-day pieces. A good example is the range of Neptune furniture stocked at Shackletons. To create an authentic weathered look with newer pieces use multiple coats of paint distressed to replicate years of use.
Voila! Country cottage chic in three easy steps.
Image via
This is a guest post. As always, all opinions are 100% my own.