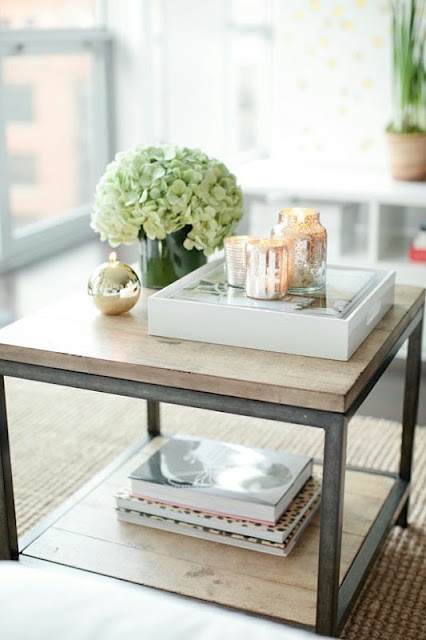 Summer is just around the corner and if you haven't got around to it yet, now is the time to style your coffee table for the summer months. Finding the perfect combination of home accessories to complement your coffee table can be tricky. With this in mind, here are a few tips and tricks to make styling your table simple.
Fresh Flowers
Nothing brightens up a bare coffee table like a bouquet of fresh flowers. Opt for seasonal blooms including Daisies, Sunflowers and Peonies as they will compliment your seasonal display. Having a fresh bunch of flowers on your coffee table not only adds a pop of color to your display but it also scents your space. Constantly replacing your coffee table flowers can be expensive but silk flowers are a low maintenance option for those looking to spend a little less.
Group Items Together with a Tray
Small items like scented candles, match boxes and trinkets from your travels can enhance your coffee table display but they can also make the surface appear cluttered. One way to keep your coffee table clutter free is to gather all of the smaller items together by placing them on a tray. A tray is one of the key design elements of a perfectly styled coffee table and you can find these anywhere from an interior design store to a car boot sale. The end result should be a layered look and you can use the tray as one of your layers as it's a great way to incorporate different heights.
Make it Personal with Coffee Table Books
No coffee table display is complete without a couple of coffee table books. There are hundreds of coffee table books to choose from but choosing the ones that showcase your personal interests can help to make your display unique. Remember to consider your colour theme when choosing books, black and white book covers will complement any table whether you have a glass one or a solid wood design like this one.
Experiment with Textures
Some of the most stylish coffee tables feature a range of textures and you can achieve this look simply by investing in a few key pieces. Simply mix it up with wicker trays, glass bowls and leather books for an eclectic look.
So, there you have it, simple ways to style your coffee table for summer.
Image via
This is a guest post. As always, all opinions are 100% my own.