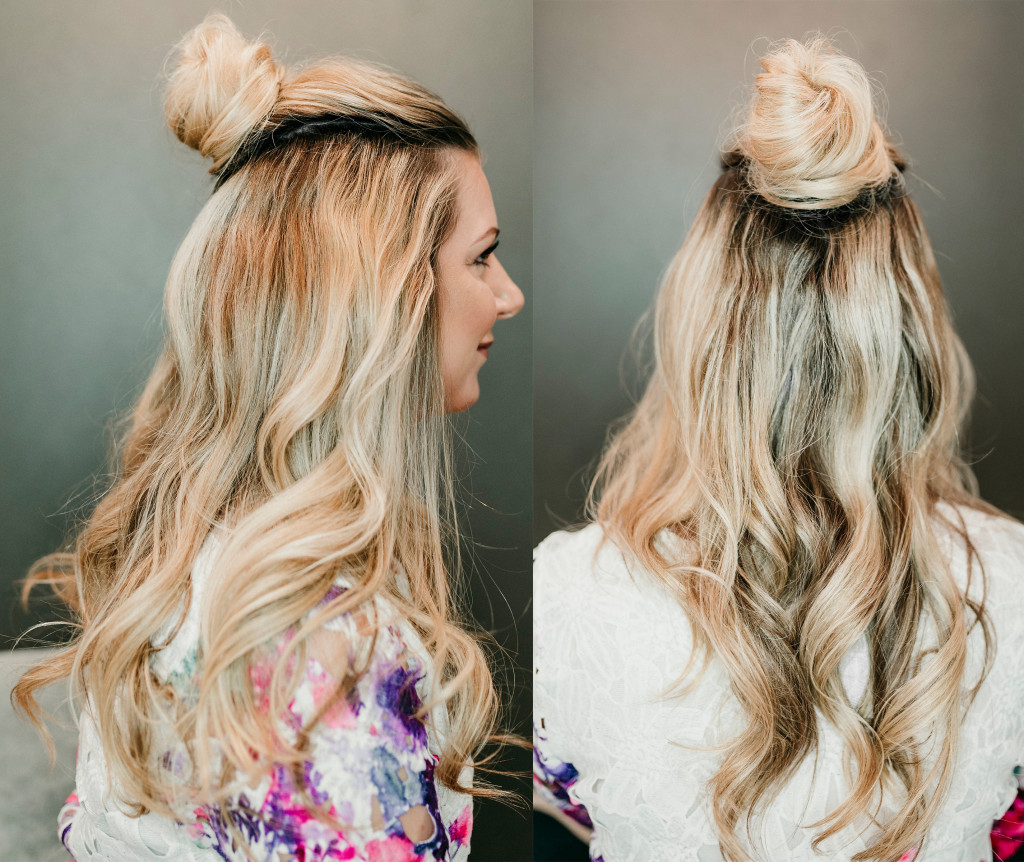 As you may have seen in my last makeup post, I had the opportunity to work with an amazingly talented group of women in the Twin Cities recently! Courtney worked on my hair and asked me what kind of style I wanted to see. To be honest, hair is definitely where I struggle creatively. I tend to wear my hair three to four ways – straight, wavy curls, in a ponytail or in a top knot. That's why working with Courtney at Wayzata Salon & Spa was a great experience – she had ideas immediately after taking a look at my hair.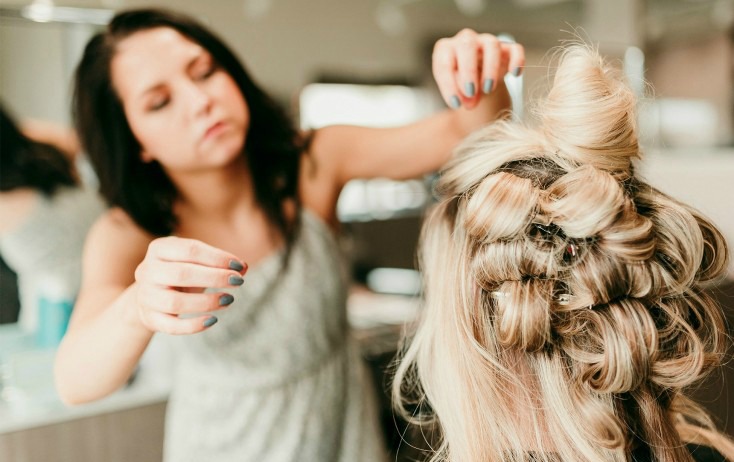 She decided to do a half top knot with big, loose curls for the bottom part of my hair. Starting with pulling my hair half up to work on the bottom part of my hair – she followed these steps to achieve the look:
Using a large curling iron – at least 1 to 1 1/2 , she started to curl my hair
Using clips/pins she let each curl cool off a bit and then slowly rolled it up and pinned each curl (this helps maintain the big curl/wave look you see as the final result)
She used just a spritz of hairspray on the curls rolled up after completing three to four of them
For the bun, start by brushing the top of your hair back, but also tease it a little bit to give texture. Depending on how much hair you have, you can then take the rest of hair and wrap it around a center point.
You can then start securing it with either bobby pins or a hair tie and play around with it – pulling out pieces of hair to give it more of a textured, messy look – or if you want keeping it neat and clean.
Start undoing your pinned curls one at a time and spritz a few sprays of hairspray all over your hair.
Tousle your hair and use your hands to lightly brush through the curls
And there you have it! You have a chic summer hairstyle perfect for any event!
This hairstyle seriously works for any type of event – from a summer concert to a hair style as a bridesmaid at an outdoor wedding. It's chic, modern and keeps some of your hair up during these warm summer months. Again, a HUGE thank you to Courtney who spent a lot of time to perfect this hairstyle!
And a huge hank you to a wonderful team of people for making this collaboration possible! Make sure to check out everyone's pages for more inspiration and details!
***You can get $20 off any hairstyle at the spa using code RachHair$20off when you book a makeup appointment at Wayzata Salon & Spa. And as a reminder from my summer bronzed makeup look – you can also get $20 off any makeup service with code RachMakeup$20off!
---
For more on fashion, beauty and travel, follow Rachel's Lookbook on Instagram!