This shop has been compensated by Collective Bias, Inc. and its advertiser. All opinions are mine alone. #MyUnique4 #CollectiveBias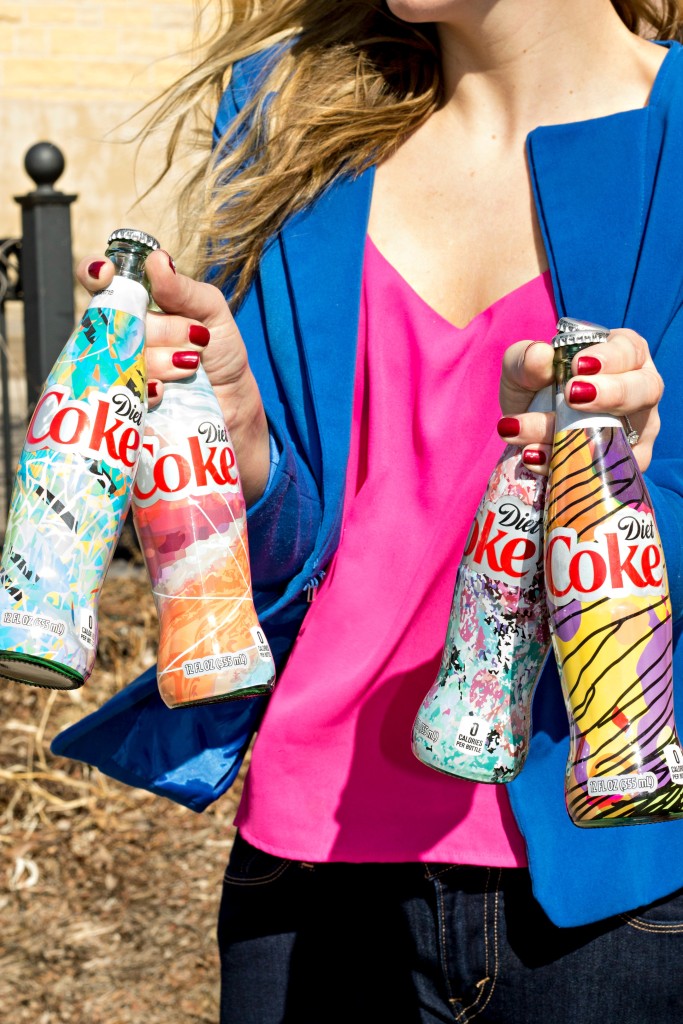 At 3 p.m. on a Friday afternoon, I can guarantee you'll find a Diet Coke on my desk. Diet Coke is just always delicious, especially when I'm at work and just need something special to sip on. Recently, Diet Coke came out with the "It's Mine" glass bottles, where each bottle has it's own unique design. Meaning, if you purchase one, you'll have your own unique design too!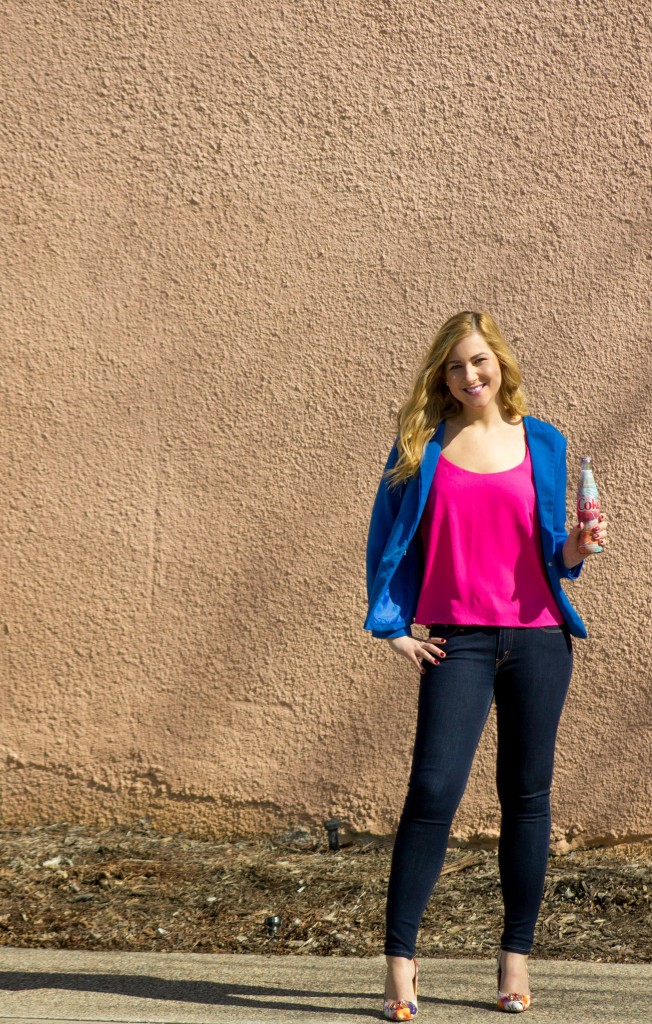 These bottles are so beautiful, with vibrant colors and intricate patterns. When I look at them, I am immediately inspired to think of different color pairings in my closet. With the bold and bright colors, they "It's Mine" glass bottles gave me plenty of ideas for color blocking. Here are my steps for putting together a color block look:
1. Choose a color scheme
Either choose two to three colors in the same color scheme, or two bold, opposite colors. Here are some examples of perfect pairings:
In the same color scheme:
Blues – Teal and light or dark blue
Reds – Red and red orange or pink
Yellows – Yellow and yellowish orange
Opposite colors – also known as pairing a warm and cool color together:
Yellow (warm)  and blue (cool)
Pink (warm) and teal (cool)
Orange (warm) and purple (cool)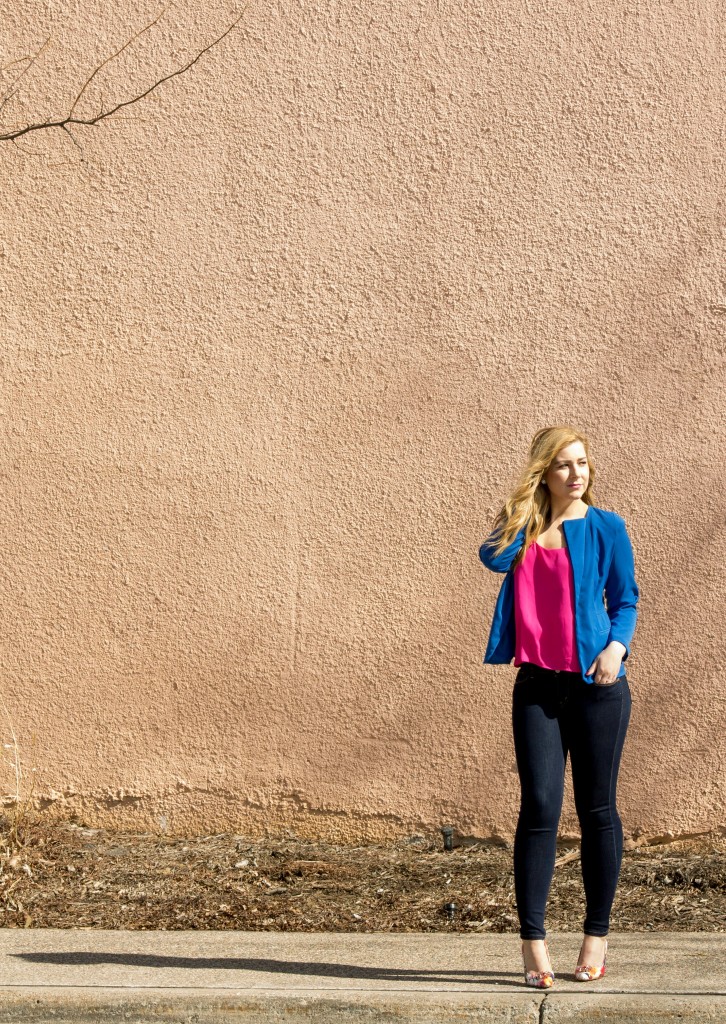 See! It's easy! I chose a warm color (pink) and a cool color (blue) that makes a vibrant statement. I then added some patterned heels with orange in them, to match my orange, blue, and pink bottle.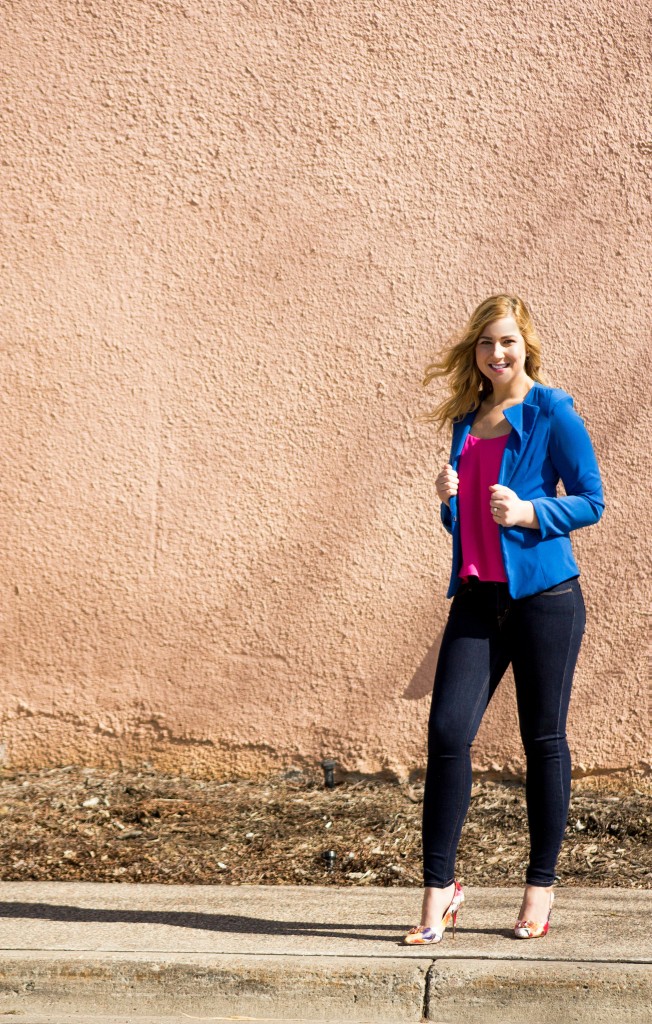 2. After selecting what colors you want to pair together, select items in your closet without textures or patters. Textures/patterns can distract from the bold contrast of the two or three colors you're pairing together.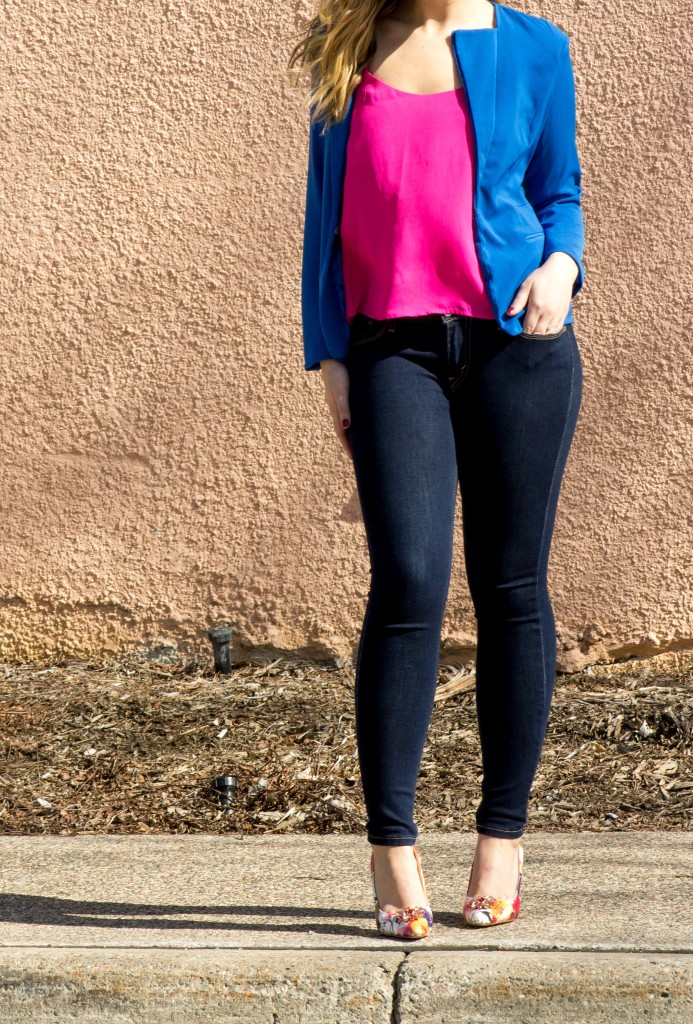 As you can see, I picked to pieces that were bold, but plain. I did add some more fun shoes, but it still works to pull the look together.
3. Make sure one of the pieces is clean cut. Clean cut pieces such as a pencil skirt or blazer will pull the look together. When pairing such bright colors together, you want it to look sharp, so if you don't wear at least one clean cut piece, it could look sloppy.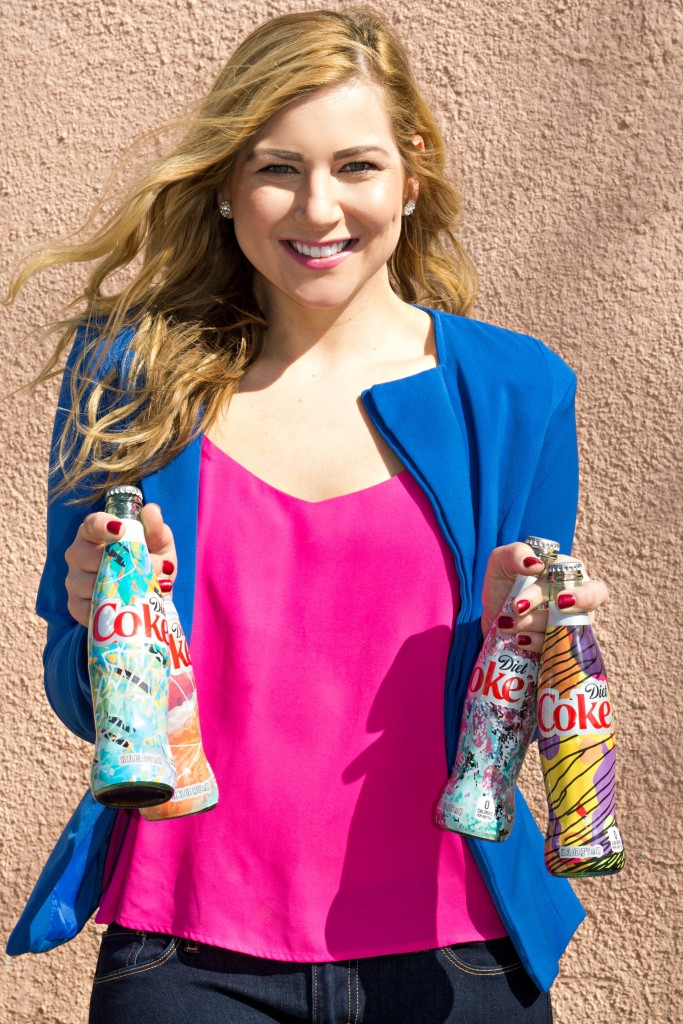 A blazer paired with a smooth, plain tank top is definitely a good choice for color blocking!
4. Finally, have fun! Fashion is about experimenting and having fun. A lot of people are fearful of pairing bright colors together, but it doesn't have to be scary. Find inspiration in the things in your daily life, like the "It's Mine" diet Coke bottles, and have fun wearing your daily art!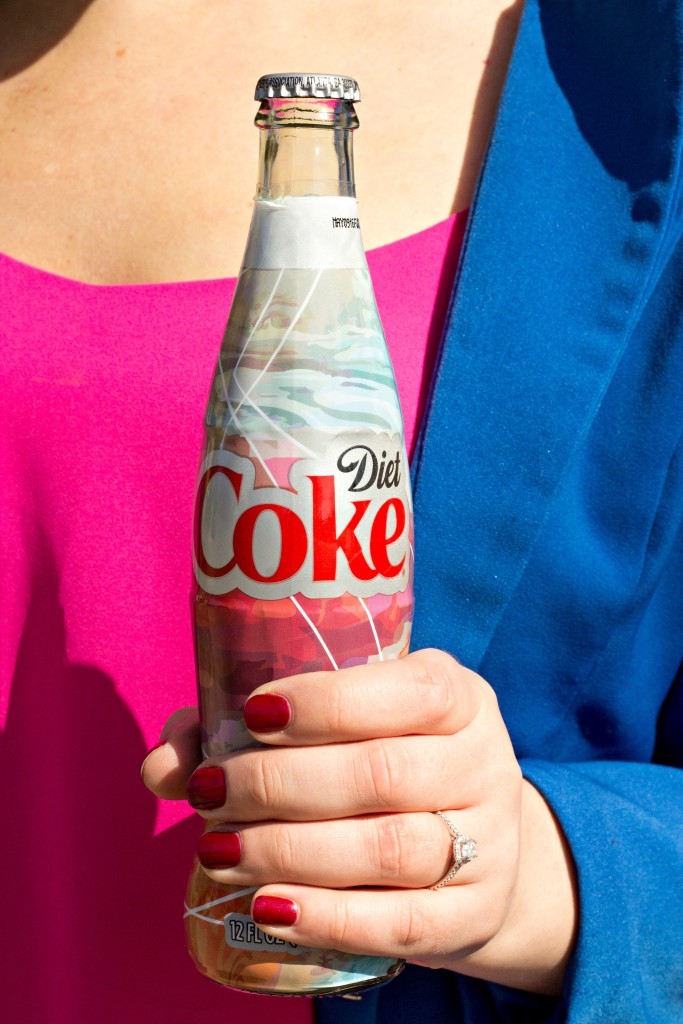 For my outfit, I paired based on the inspiration from my own unique bottle.  I love that each bottle could inspire a new pairing – orange and purple, or orange, yellow and purple, orange and light blue, blue and yellow, and of course my inspiration for pink, purple and blue.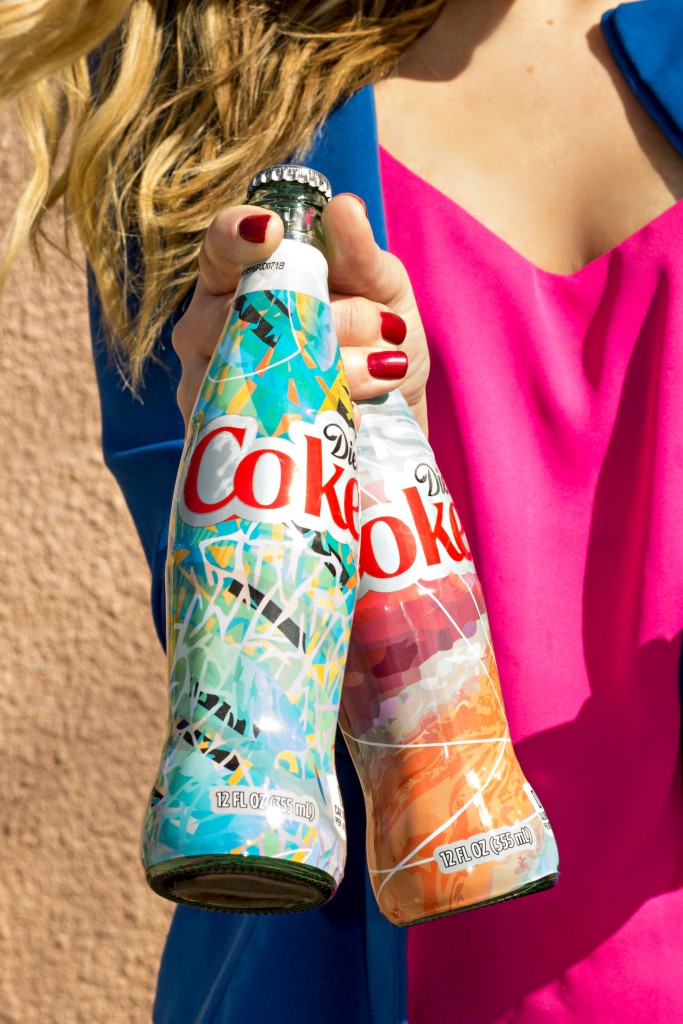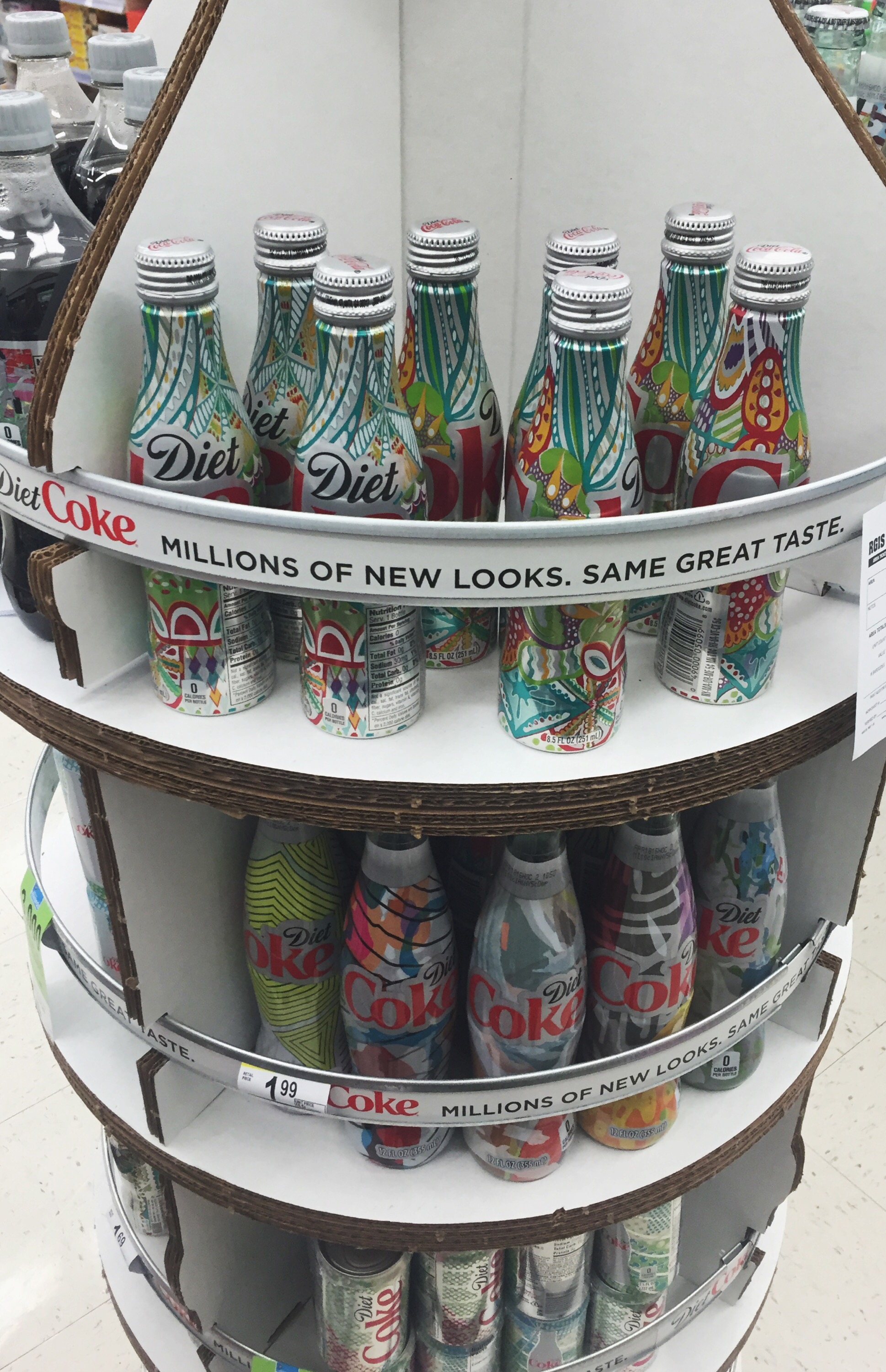 So there you have it! Will you be buying some unique Diet Coke bottles for inspiration, or just to have something delicious to drink out of something beautiful? You can find them at your local Target! There was a beautiful, giant display at the front of the store when I found my unique four! The great news is that Target is offering a discount – if you purchase at least 4 NEW Diet Coke "It's Mine" glass bottles in branded carriers, you will receive 10% off!