This post is sponsored by Minted.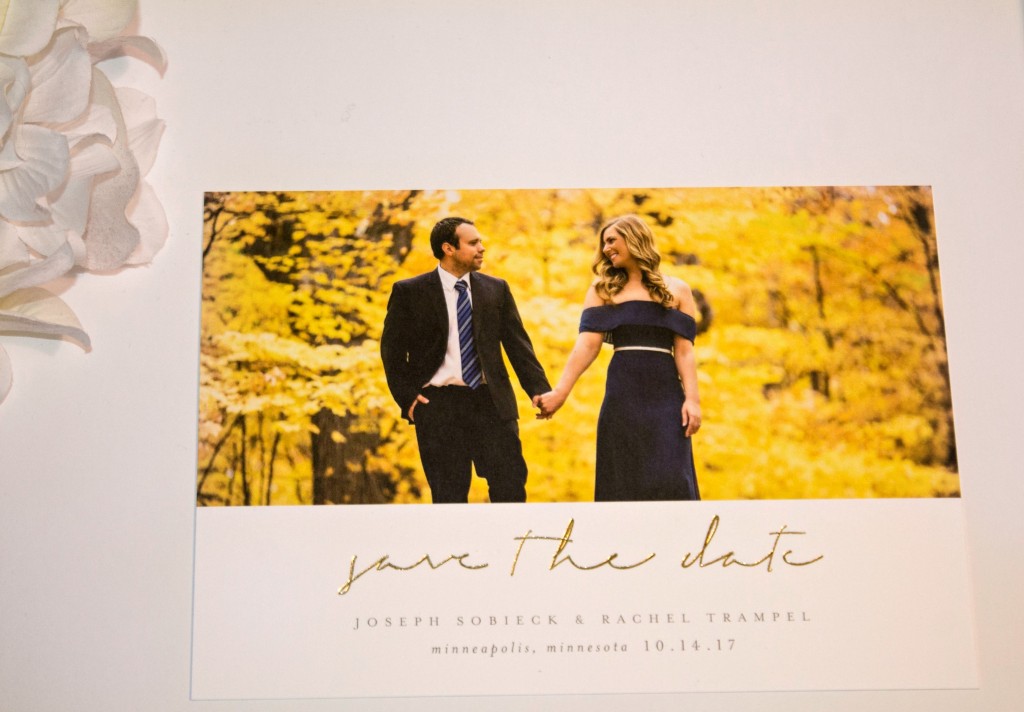 I am so excited to share our save the dates, all of which we customized and ordered from Minted Weddings. I have been familiar with Minted for quite awhile – from creating a one-of-a-kind Christmas card a couple years ago to constantly lusting over their home decor selection, Minted has been a go-to for many reasons.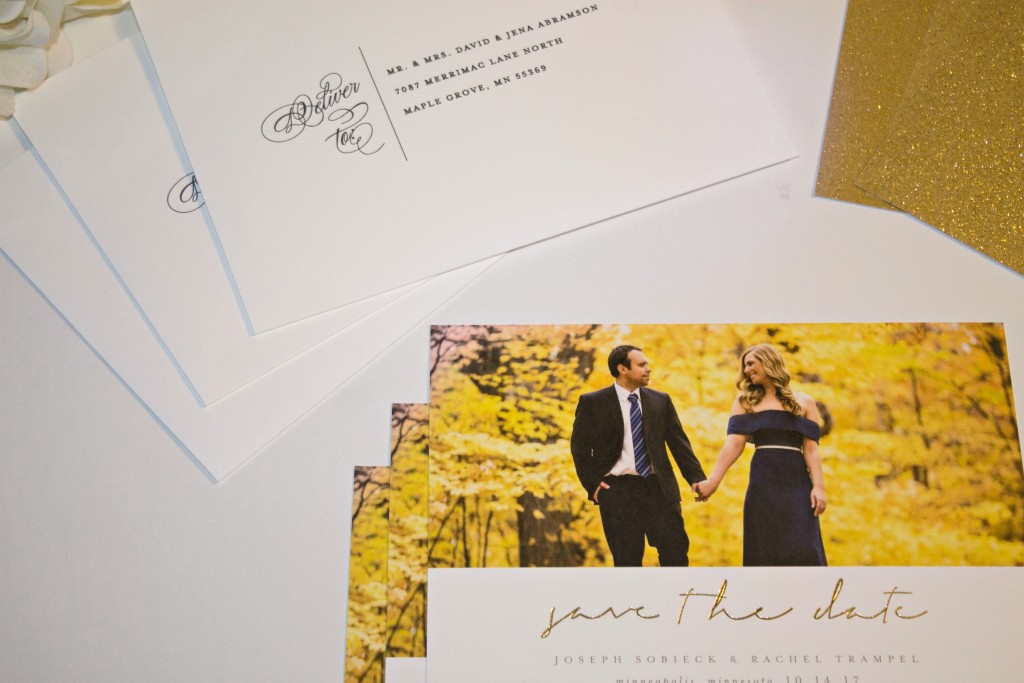 That's why I knew I would want to look into both save the dates and invitations for our wedding from Minted, since they have such a broad selection of unique, sophisticated and elegant designs. I also wanted to take advantage of gold foil press on our invitations, since gold will be one of our wedding accent colors. I mean, who doesn't love the idea of a foil press save the date? It's such a simple, yet gorgeous touch on a save the date/invite.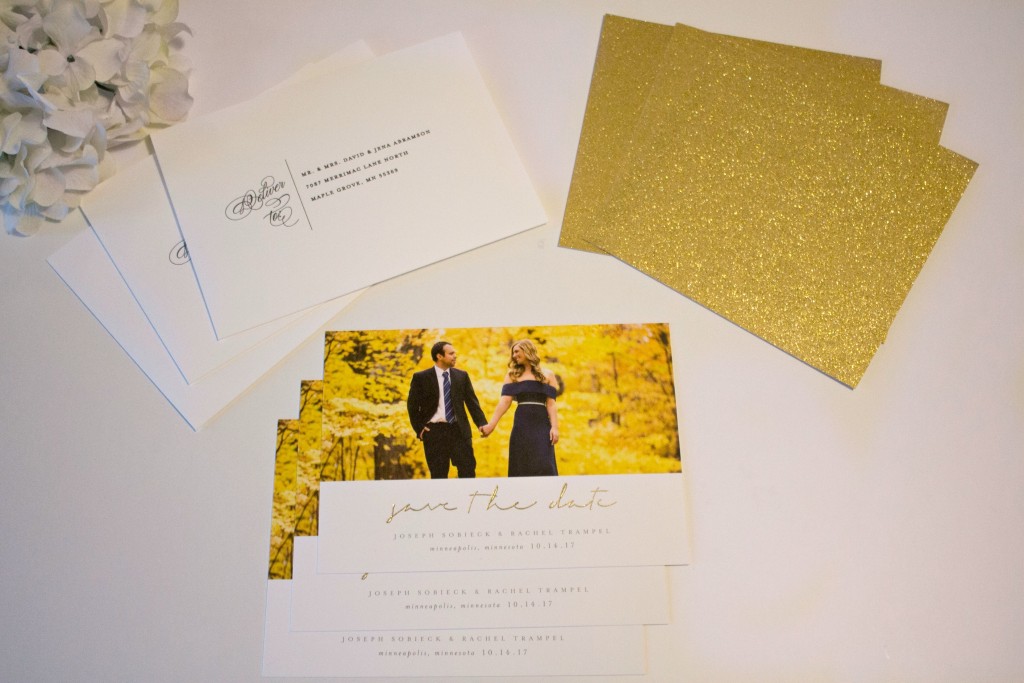 And that's exactly what we went for! Our engagement photos were taken in the prime time of fall, when the leaves were bright yellow and falling down around us. Between the colors in our engagement photos and our metallic accent being gold, the gold foil press card was the way to go. All the cards looked beautiful with the silver and rose gold foil options as well. I instantly fell in love with many of the designs, but ultimately went with the Noted design– a perfectly simple and chic save the date that worked well for our favorite engagement photo, which was in a landscape format.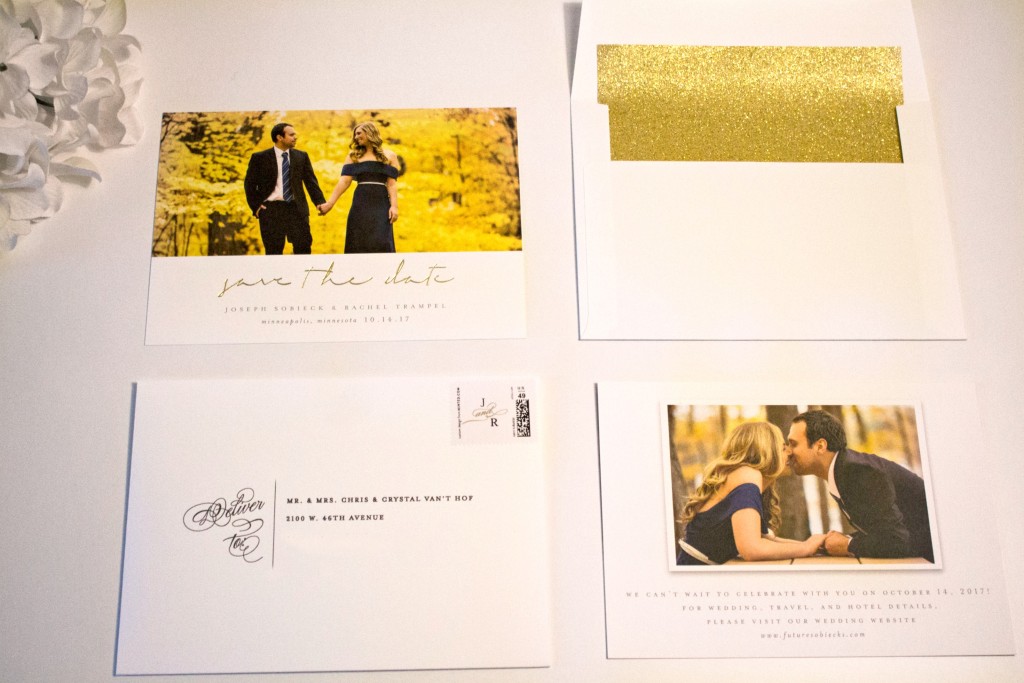 There were so many things I loved about the process with Minted from the unique designs to the custom stamps, Minted truly made this a very personalized, fun experience for my fiancé and me!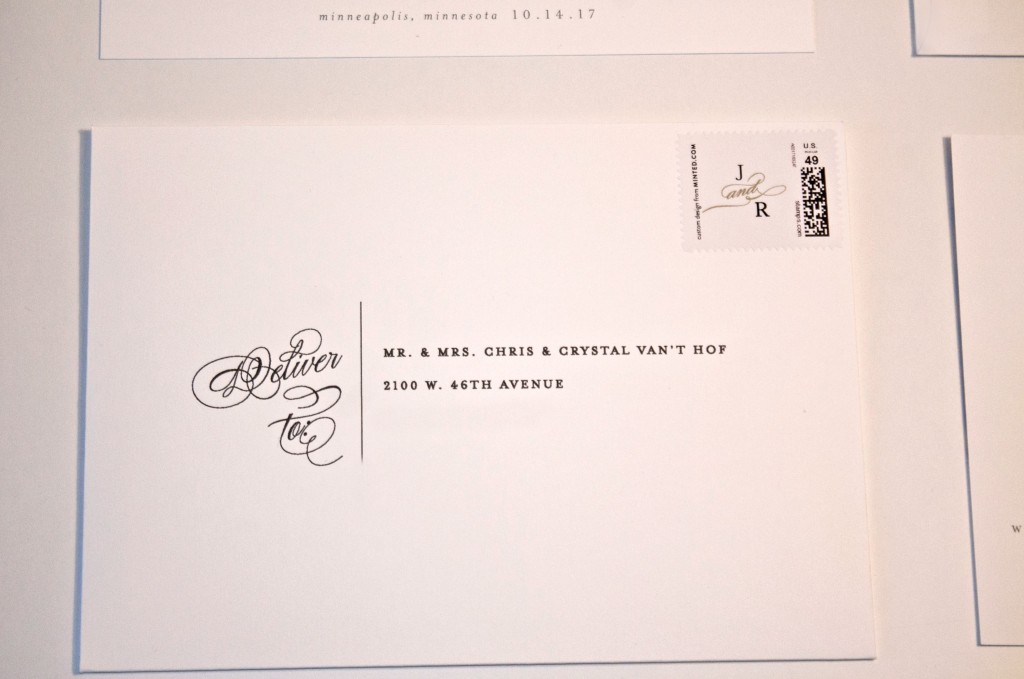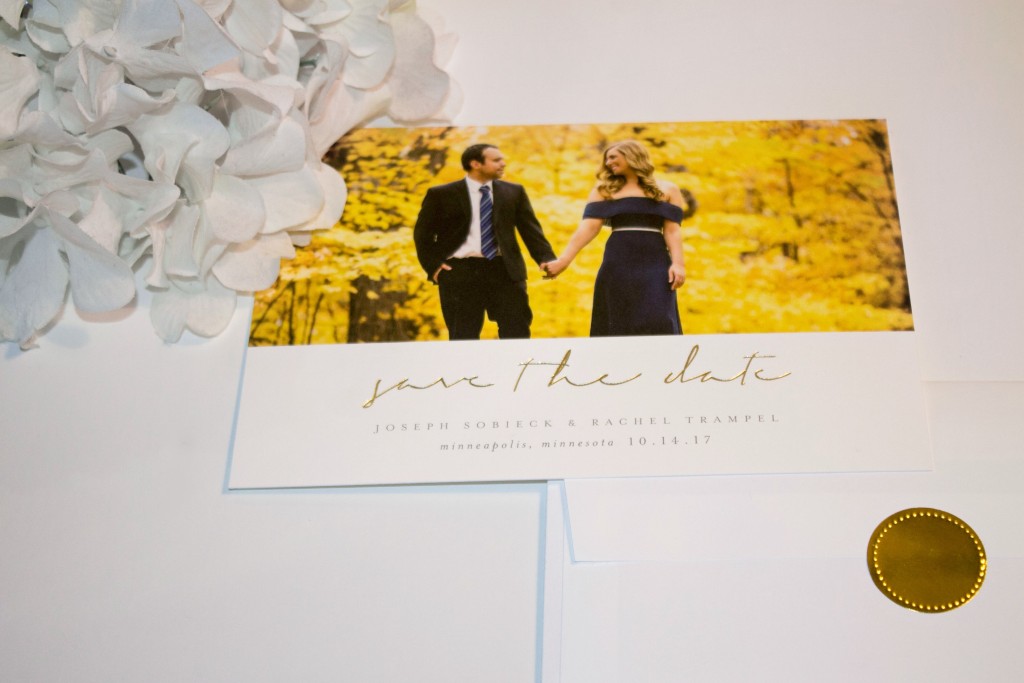 Why I Loved Using Minted for Our Save the Dates:
Vast Array of Beautiful Designs – There were so many designs to choose from – whether you wanted to go for a floral or leaf design, or keep it timeless and simple like we did – you can make it happen. There is something for everyone and the designs are executed in a high-quality manner. There was also a wide variety of coloring schemes from light blushes and lilacs to neutral blacks and whites. Not to mention, each design is available as a magnet (which was definitely an option we considered, but having the option to foil press was a must for me).
Easy to Design and Personalize – After you choose a few designs you like, you are able to upload as many photos as you'd like and customize your message to really see how the save the date/invites will look and feel. I also loved that I was able to choose from several options for the back of our save the date! Sharing our wedding website was definitely necessary so people could begin to book the hotel, so we chose to share a second engagement photo along with a short message and our wedding website URL.
Quality and Size – The standard quality and size are fantastic in comparison to a lot of places out there! With a classic 7 x 5″ size, your card will make a statement on someone's pin board, fridge or office space. They have a postcard option and petite size as well, if you want to go for something a bit smaller. Additionally, the quality is fantastic. The standard card thickness is better than I would have expected. There was no reason for us to upgrade to a thicker paper because the standard thickness is already heavy duty.
Convenience – Aside from the gold foil design (can you tell I'm obsessed?), one of my favorite parts was being able to upload our address list and have complimentary guest addressing on the envelopes. Almost every design had a matching guest address design, or you could choose a different one to make it even more unique. This guest addressing looks so much nicer than one, writing out the addresses, and two, even using labels. I think it just added an extra classy look and feel to the save the dates. And what's even better? For invitations and thank yous, we already have our guest list loaded for next time.
Customization – So you pick your design, you add your own photos/words, you can choose to use guest address printing for free (in a variety of designs) – what else could there possibly be to customize? Oh so much more! This was my favorite part of the process, adding a few additional details to make our save the dates feel a bit more unique. Tons of people are getting married and sending out save the dates, so when you are looking to stand out from the rest, adding a custom stamp, like we did with using our initials J & R on the Timeless Wedding Stamps (in gold – love these stamps in blush and stone too). Additionally, we choose to add a glitter gold liner (I really get excited about anything and all things gold and sparkly) – to accentuate the yellow in our engagement photo as someone opens the save the date and to correspond with the gold foil press. These were the extra details that really brought our save the dates together to showcase our wedding theme and vibe: classic, elegant and sophisticated.
Easy Ordering Process – I created an account with Minted and signed in and out multiple times to test out different designs, different guest addressing designs, different stamps, different liners etc. It was easy to save each design and unique look while going through the process when we were deciding what we really wanted (and collecting all of our addresses). When I was ready to order, it was extremely simple to verify exactly what I wanted for each step of the process: Correct design? Correct envelope? Correct address design? Correct stamp? Not only that, it was supposed to take a week and a half to get our save the dates, but we ended up receiving them within three business days! I was super impressed with the quick turnaround time. We were able to put our save the dates together in one night (adding stamps, the liners, the return address, etc.) and get them sent out the following day.
So what's next? We are now looking into these gorgeous foil print wedding invitations to find something that suits our wedding theme and coordinates with our save the dates. With our address list already loaded into Minted, creating an equally unique and gorgeous invitation set will be as easy as one, two, three!
I highly recommend looking into Minted for your wedding invitation needs – whether that's save the dates, bridal shower invites, bachelorette party, rehearsal dinner, thank you cards – whatever it is – I guarantee you will be happy with Minted's finished product. I say that with confidence after using them for Christmas cards in the past and putting together this save the date, which I'm in love with!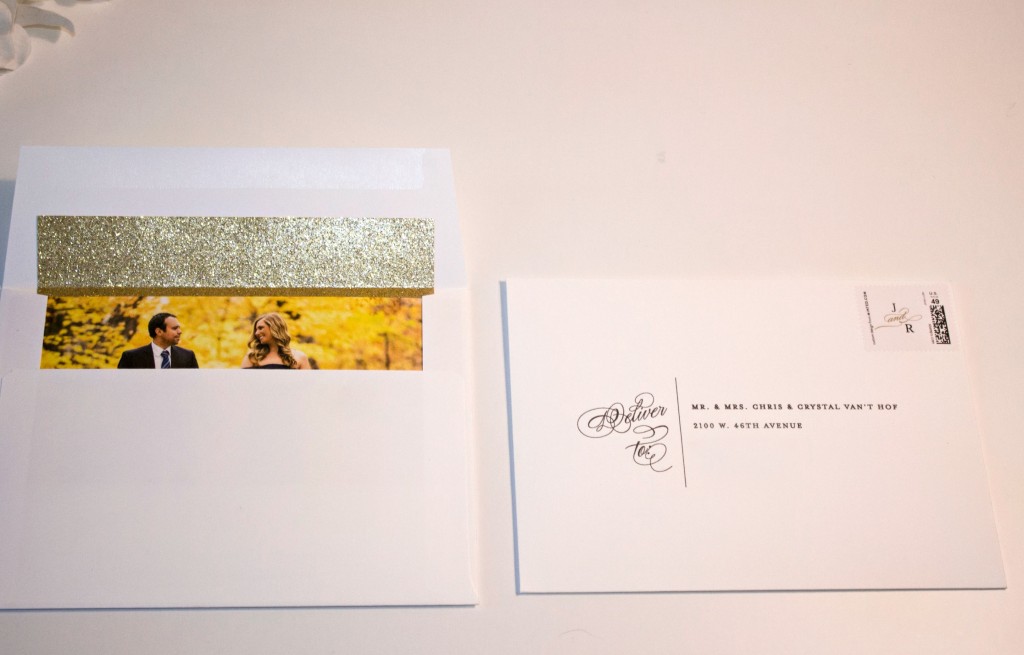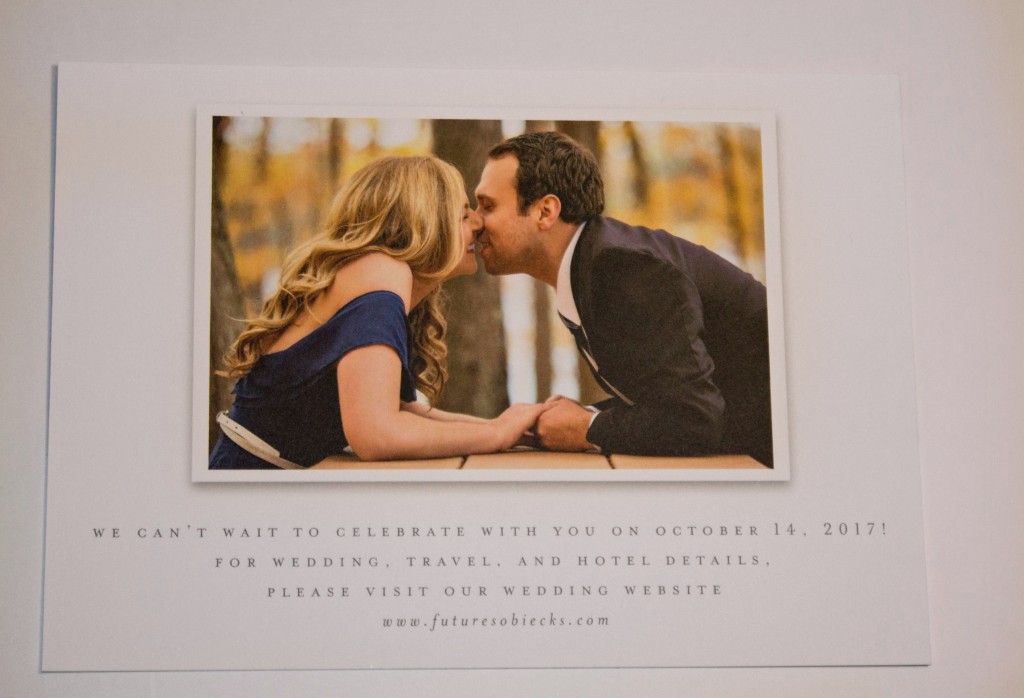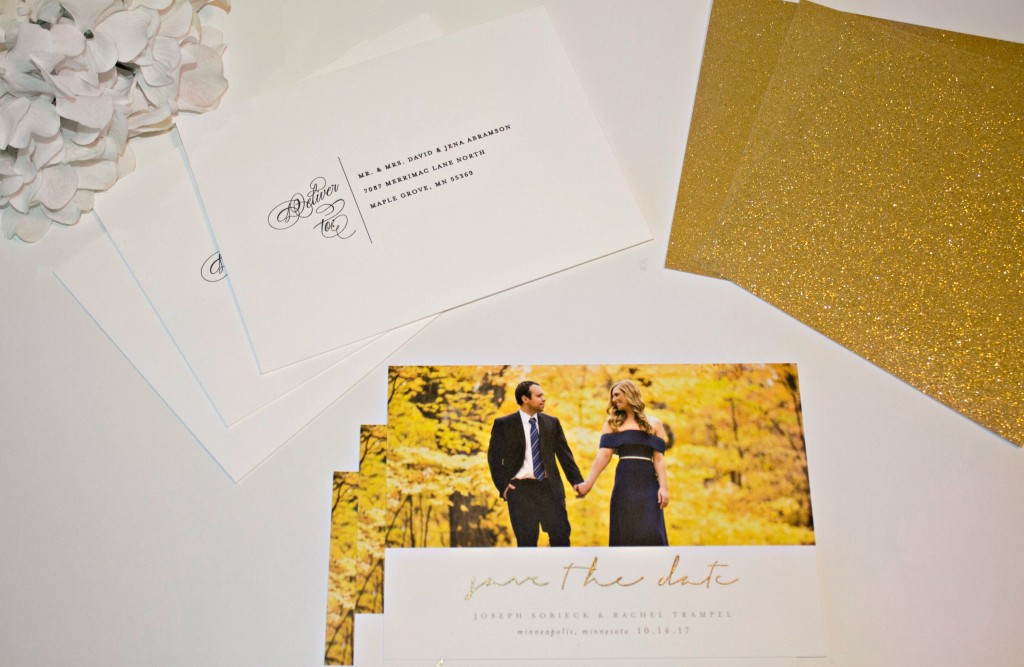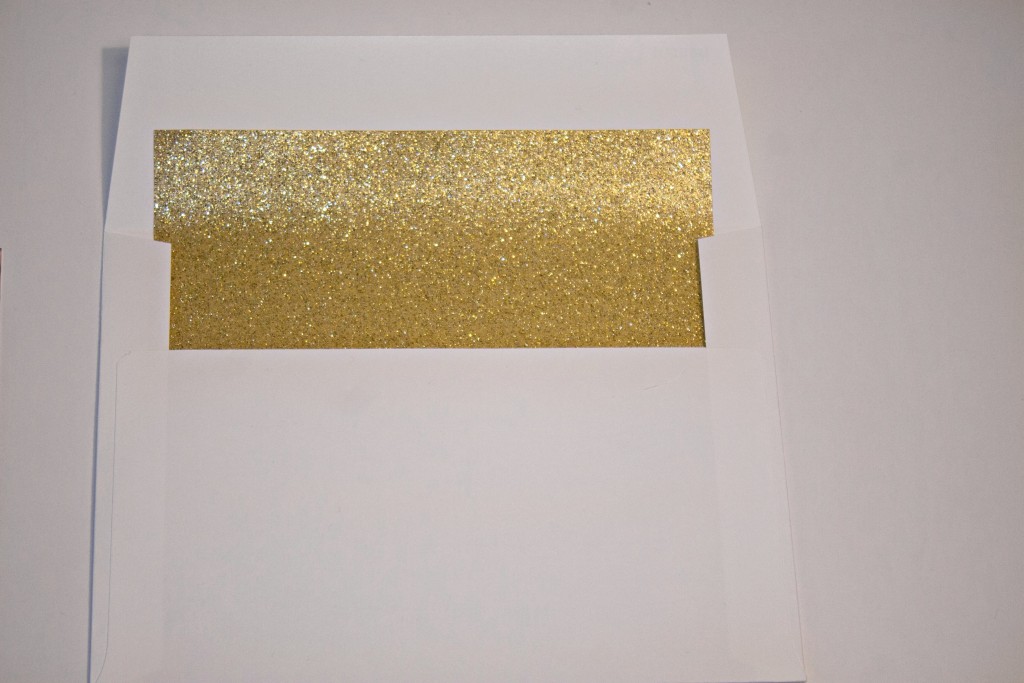 Shop Our Save the Dates: Noted Foil-Pressed Save the Date Cards | Stamps | Return Address Stamp
Shop Minted: Save the Dates | Wedding Invitations
Have you used Minted before for any of your cards or personal design/decor? Let me know in the comments below!
This post is sponsored by Minted. Thank you for supporting the brands that support Rachel's Lookbook!