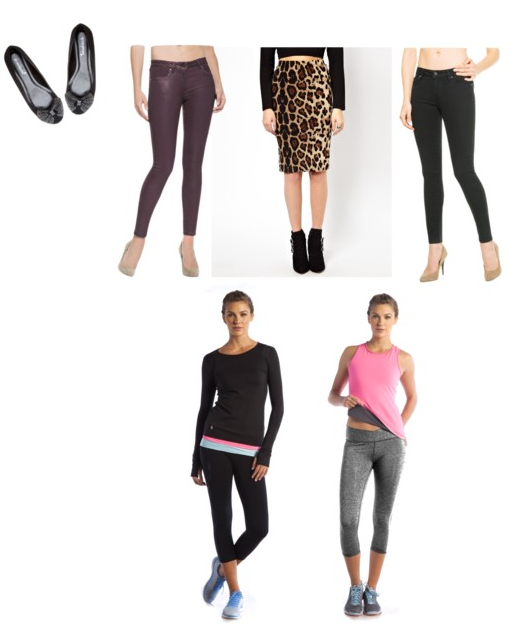 ShoeDazzle Bow Flats: With VIP money saved up, $5 total + Free Shipping (see here)
JustFab Coated Skinny Jeans: (in plum) On sale buy one get one half off (normally $39.95 a pair), $29.96 + Free Shipping
Asos Leopard Print Pencil Skirt: $27.22 + Free Shipping
JustFab Solid Skinny Jeans: (in black) On sale buy one get one half off (normally $39.95 a pair), $29.96 + Free Shipping
Ellie Nightrider Top and Cuddle Up Capri: $49.95 as a part of the Fit Fashionista Club + Free Shipping (see here)
Total: $142.09
Not too bad this month! I loved the Ellie Fitness collection this month and have been working out more again, so it only seemed right to buy this month. Also, been needing some more jeans/pants, I have gotten rid of a lot of old jeans and pants and couldn't resist the buy one get one half off sale at JustFab, although I should have waited because they were buy one get one free on Black Friday! Oh well… anyway, they fit well but definitely size up with the coated jeans if you are interested in them.
I did A LOT of shopping on Black Friday (online), which is technically in November, but I will share all of those purchases next month because I might be returning some of the items depending on quality and fit. Also, I was too lazy to add all of those items to post today 😉
Hope you had a wonderful Thanksgiving! Happy December. Linking up with Fran's Budgeting Bloggers.