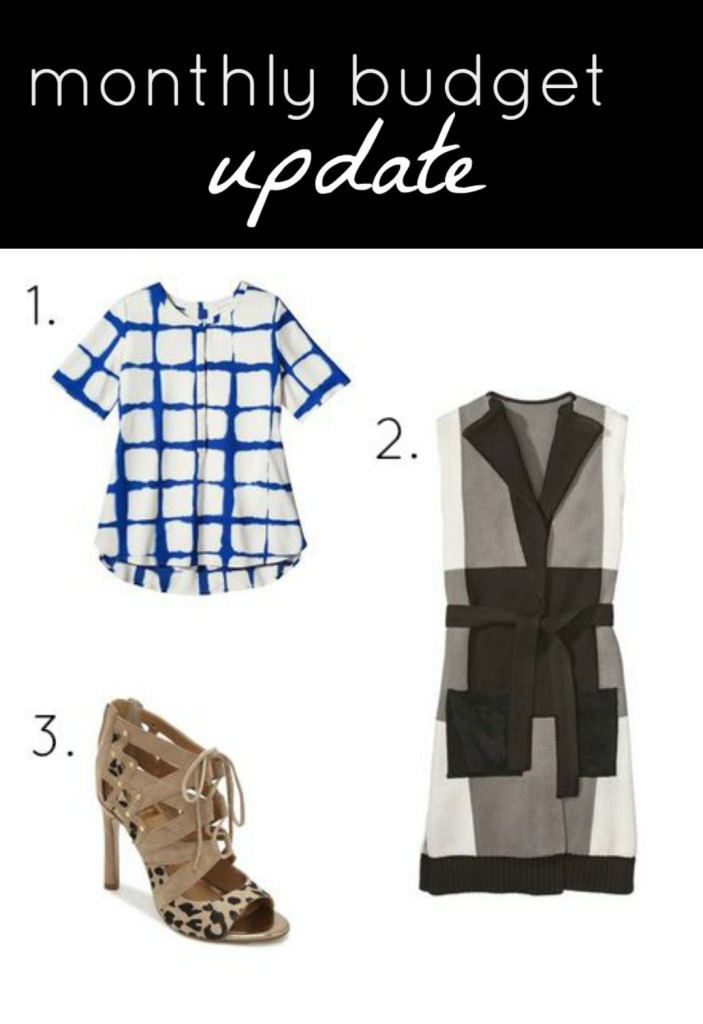 I had to be good this month because we're moving, and I'm saving up for a new computer! With extra expenses and moving costs, I didn't leave a lot of room in my budget, yet I did want to check out the new Target collection, so I added a couple new pieces to my wardrobe.
1. Blue Patterned Crepe Blouse, Adam Lippes for Target – $29.99
2. Long Layering Plaid Vest, Adam Lippes for Target – $39.99
3. Leopard Heels, Dolce Vita – $24.99
Total: $94.97
Lately, I've really been focusing on cost per wear. In fact, I kind of started thinking more about it after traveling to Dallas with some girlfriends. Why you ask? Because one of them fell in love with a pair of cowboy boots, adorable and totally her, but even at 40% off, they were still around $240. She was like, how can I even justify spending that much on a pair of boots. Then I heard myself say – because you are going to wear them all the time. They are comfy, and practical, and extremely functional, even in our Minnesota winters. Even if she only wore them once a week (which I'm sure she will plus more) during our 4  6 month winter, she will be paying only a few dollars per wear. That makes them worth it! That's my new mindset and it's working well. It helped me say yes to a blouse I love and will actually get a ton of wear out of, and a vest, which although I don't need more sweater things, I could see myself wearing it with dresses, over blouses with jeans and much  more this winter.
Finally, I did have one fun purchase. I will not be wearing the leopard heels a ton, but when you find a good brand of shoes in a style you love for less than $30, it was meant to be, yes? Okay thank you. I agree. Regardless, I was under $100 this month and I can feel really good about that!
And you can read more about my Adam Lippes for Target experience and reviews here! And see the other item I got that I don't count as my clothing budget!
Linking up with Budgeting Bloggers