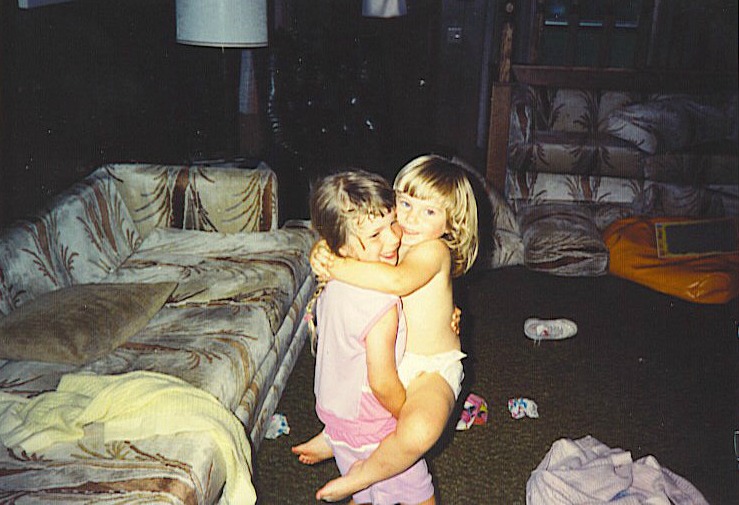 Well we are now just two days away from my older sister's BIG DAY. Life has been so busy lately, I've barely had a moment to process what is actually happening. Yesterday it finally hit me that this is HAPPENING not in a year, or even a few months, but in a couple days! I'm feeling rather emotional and reminiscent.
My sister has and always will be a role model to me. Whether it was following her lead to get in trouble when we were little, begging our dad to let us get a cat (and then a few years later a dog) or figuring out what life was all about after high school, I could always count on her for advice.
Last night before bed, I grabbed a blank sheet of paper to start writing my maid of honor speech. It has been one of those little stresses on my mind lately, like hey maybe I should figure out what I'm going to say because I don't want to be blabbing and boring her and her fiancé's friends and family to death. I think staring at that blank page of paper made this huge life event seem very real to me. I am so excited for her, so glad she's found someone to spend the rest of her life with, and with the memories of when we were younger started flowing through my mind because I realized after this weekend, our family will be different.
On Saturday, she becomes a wife. On Saturday, our family grows by one. On Saturday, I gain a brother. All of this has made me very emotional and I don't know why. Why do people cry at weddings?! They are a celebration after all, but I already know I am going to be a mess at her ceremony and when I give the speech. I love her to pieces and even though we have had our share of fights and disagreements, my heart is so happy for her. She deserves the best and I know that's what my soon to be brother-in-law will give her, and we are all happy to welcome him into our family.
Sister, I am so overly emotional and thrilled for you! Thank you for being such a huge influence and supportive person in my life. I am happy to be your maid of honor and support you not only through your big life celebration, but continued on in your future. I love you!