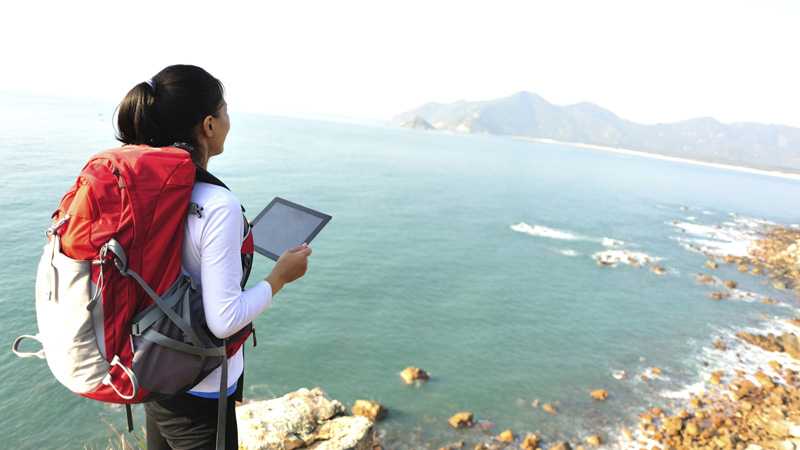 From an easy-to-use travel organizer to handy maps and photography apps, there are many ways technology can be used to enhance and improve your trip.
While you may be hoping for an authentic travel experience, having everything you need at the touch of a button, can be helpful. It may be tempting to leave your travels down to fate and just end up where you end up, but there are times when you will be incredibly grateful of a little bit of technological help.
Perhaps you can't decide where to go once you arrive – why not crowdsource tips from Twitter? Maybe your flight is late – why not use Skyscanner to help? Missing your loved ones – why not Skype them?
Using technology whilst on an 'authentic' travel trip may seem inappropriate, but there is nothing wrong with making full use of it. After all, that's what it is there for.
1. Tripit
A free travel organization app – aka a PA in your phone. The virtual version of an old fashioned Filofax, Tripit allows you to keep all your travel information in one place. Including emails, flight times, car rental details, and hotel reservations. Once all the information has been put into the app, it will then create an easy-to-follow itinerary for your trip.
2. Maps with Me
Just tap the app to get your location coordinates, and then you can download a map of where you are located. As a pedestrian in a foreign place, this is much easier to use than Google Maps. Plus, Maps with Me runs faster too.
There are two versions of this app – a free one and a paid version. The free version works just fine, so there is no need to invest in the paid one.
3. Spotted by Locals
This smart app allows you to find lots of things to see and do that you might have otherwise missed. It is simply a guide to your location written by local people. So, it includes all the tips and advice only locals know about the area – all the best beaches, bars and restaurants, etc.
Whilst it does cost $2.50 to buy, it is a must-have for any trip, especially if you don't want to miss anything important.
4. Pinterest
Pinterest isn't just dream boards filled with beautiful pictures; it is so much more. Last year's launch of Place Pins gave Pinterest an extra function, perfect for travelers. Users can use pictures to create their own destination guides, complete with a map and contact details. For example, users can take photos of the best places to visit at a particular location and pin them on Pinterest and share.
By pinning the picture, complete with a location other users can then use this as a DIY location guide. The Place Pins features has made Pinterest the perfect place to find all the best travel destinations.
5. Keek
Micro video sharing site Keek, is perfect for recording and sharing short travel videos. Travelers can use the site to not only record their own travel videos, but also to search for other travelers videos of the same areas, etc. For instance, like Danielle Peazer on Keek, you can use the site to share your experiences and build up your following.
6. Unesco World Heritage
When you are visiting a new place, it's amazing how many exciting places you simply pass by. The Unesco World Heritage app is an app filled with thousands of ideas and images; it is basically a travel encyclopedia.
You might think that the guidebooks will tell you everything you need to know, but sadly this isn't always the case. While the app costs $1.99 to download, it is most definitely worth the cost.
Remember, roaming charges can be extortionate, so always download any apps before you travel or using Wi-Fi. You may not realize it, but a few minutes of data roaming charges, can cost you more than your flight.
Image via