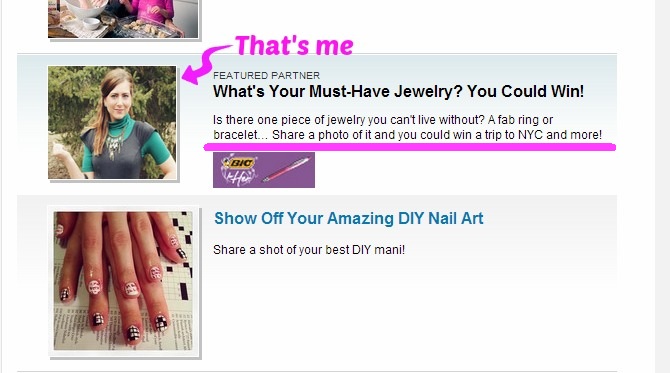 Last week while on my lunch break I was scrolling through my e-mails and stumbled across one from People Magazine. I assumed it was asking me to sign up for a annual subscription to the magazine at a great price, well because I get LOTS of e-mails like that.  I literally almost died when I  actually opened up that e-mail… I saw something about going to New York, something about a photo shoot and asking for my measurements and then all of these legal documents were attached to the e-mail. WHAT?! WHAT IS THIS?!
Then I remembered I had entered a photo to the People Magazine and BIC for Her "Her A-List Accessory" Contest featuring one of my favorite statement necklaces from JustFab and had completely forgot about it. You know, I enter a lot of contests (BIG ONES and some of those amazing blogger ones) and never expect to win, but I am always hopeful of the chance!
Well my photo was one of the ones selected to be a final grand prize winner! So my boyfriend and I filled out the legal documents and I had to wait on a background check (almost as scary as the background check for a job!) And I was playing the waiting game to tell friends the good news. Yesterday I heard back and it is official! My boyfriend and I will be flying to New York City in July and I will have the opportunity to work with a stylist from People Magazine and get my hair and make up done for a photo shoot, how fun is that?!
I am so excited on so many levels but I just have to say thank you to everyone who has supported me with this blog. Not in a million years would I imagine that submitting a photo from my blog for a contest would result in an amazing trip and experience I get to share with my boyfriend!
I haven't been to New York City since I was a senior in high school so I am excited to explore the city on my own with my boyfriend, who hasn't been there yet. So please share some tips as to where we should go and what we should see, especially for it being his first time!