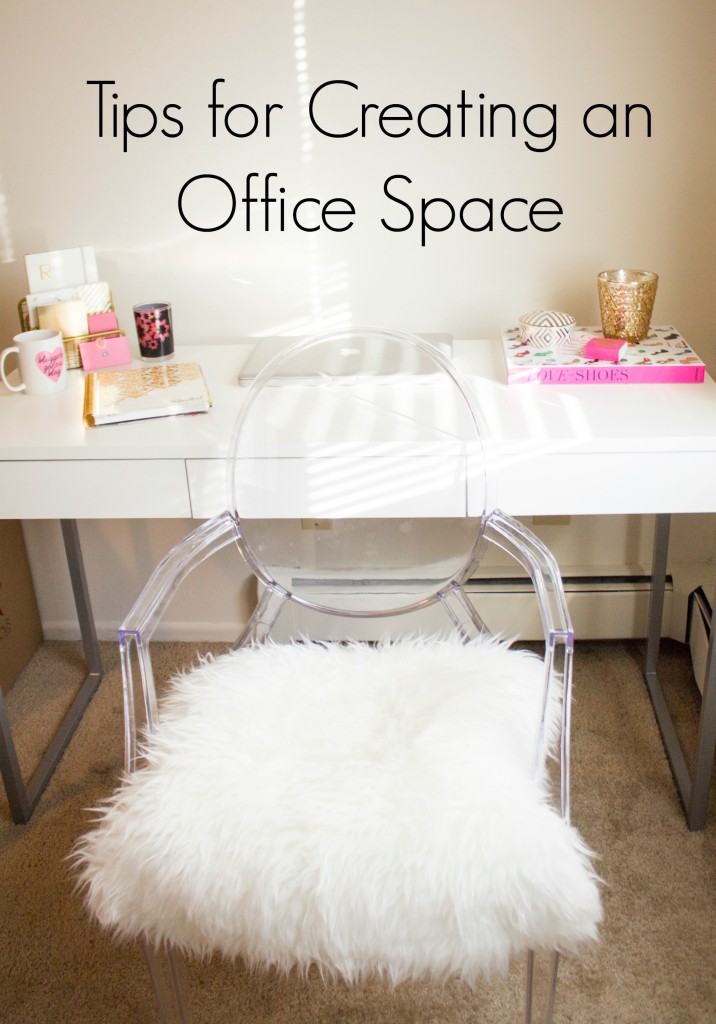 After moving into our new apartment, the first thing I wanted to do was create an office space for myself to blog, be inspired or for times I need to catch up on some work. I have been inspired by many spaces on Pinterest and wanted to create a very feminine, girly space that felt like my own. I quickly chose a theme of white and gold with touches of pink. I really don't get it could get much more girly than that! Here are my tips for creating an inspiring space that motivates you to get work done and be creative!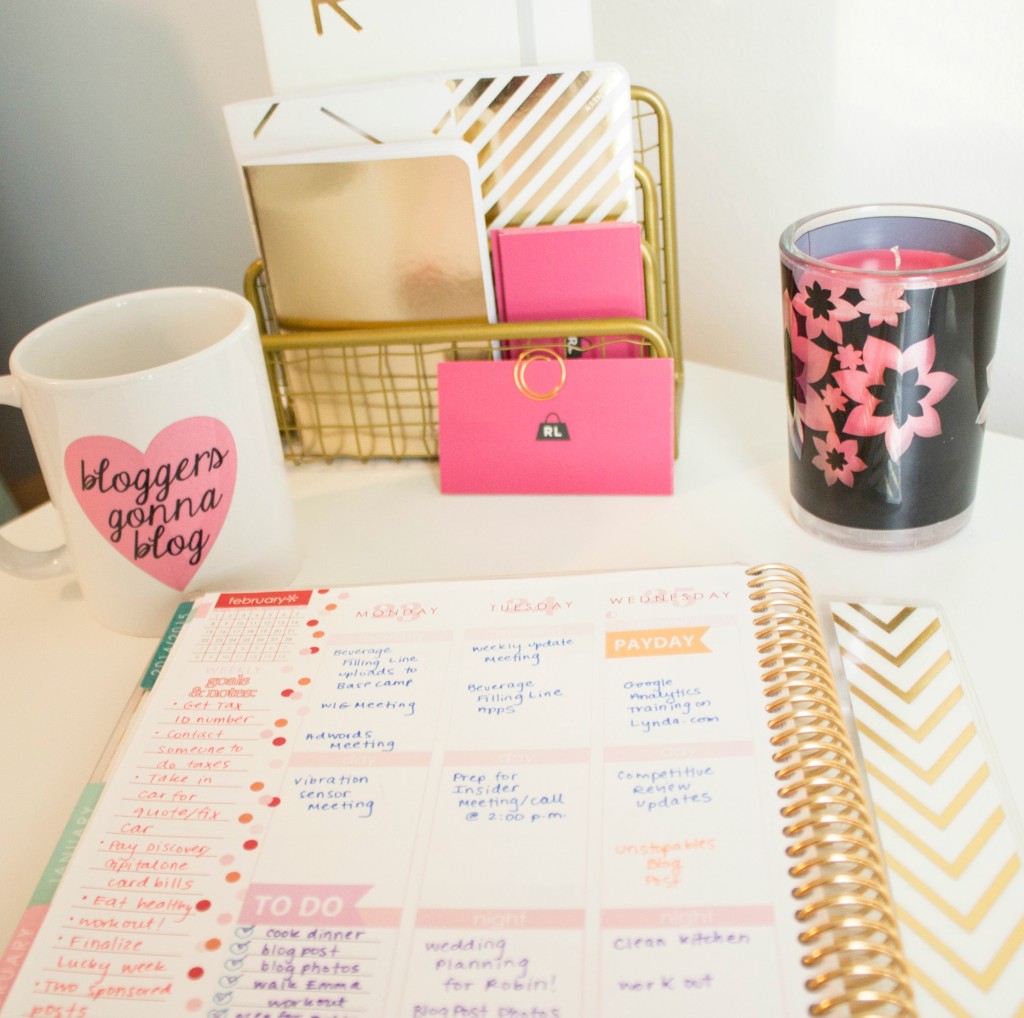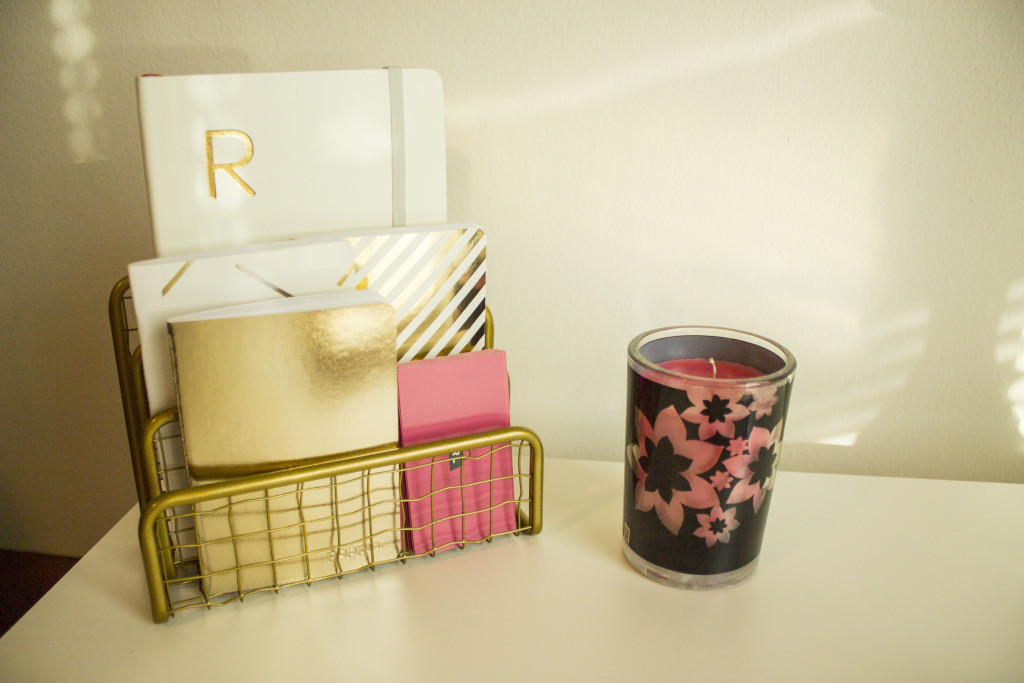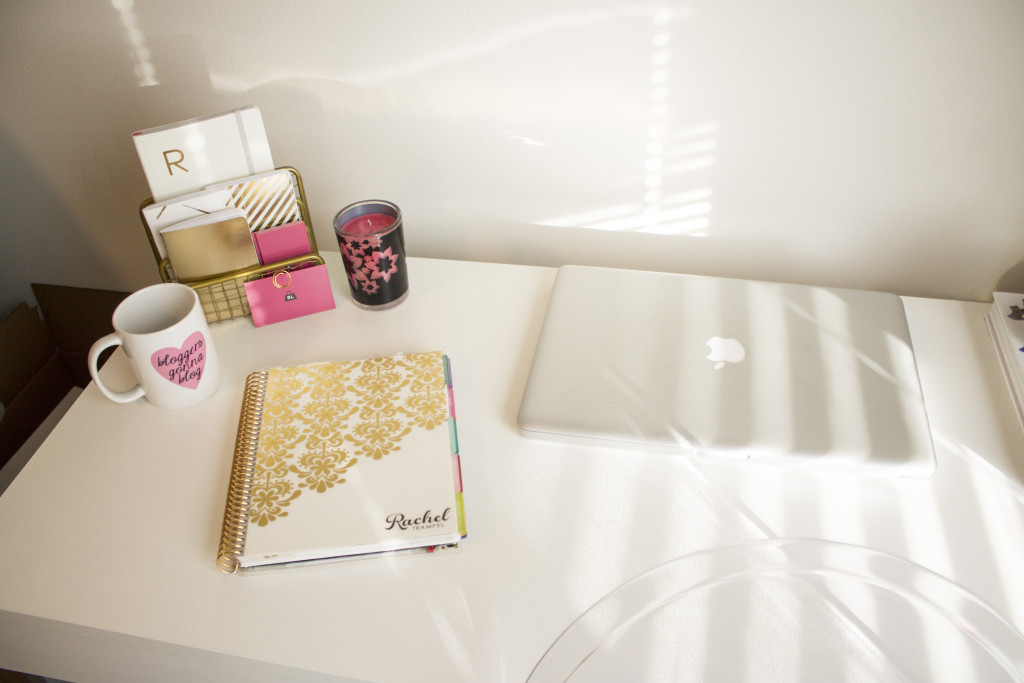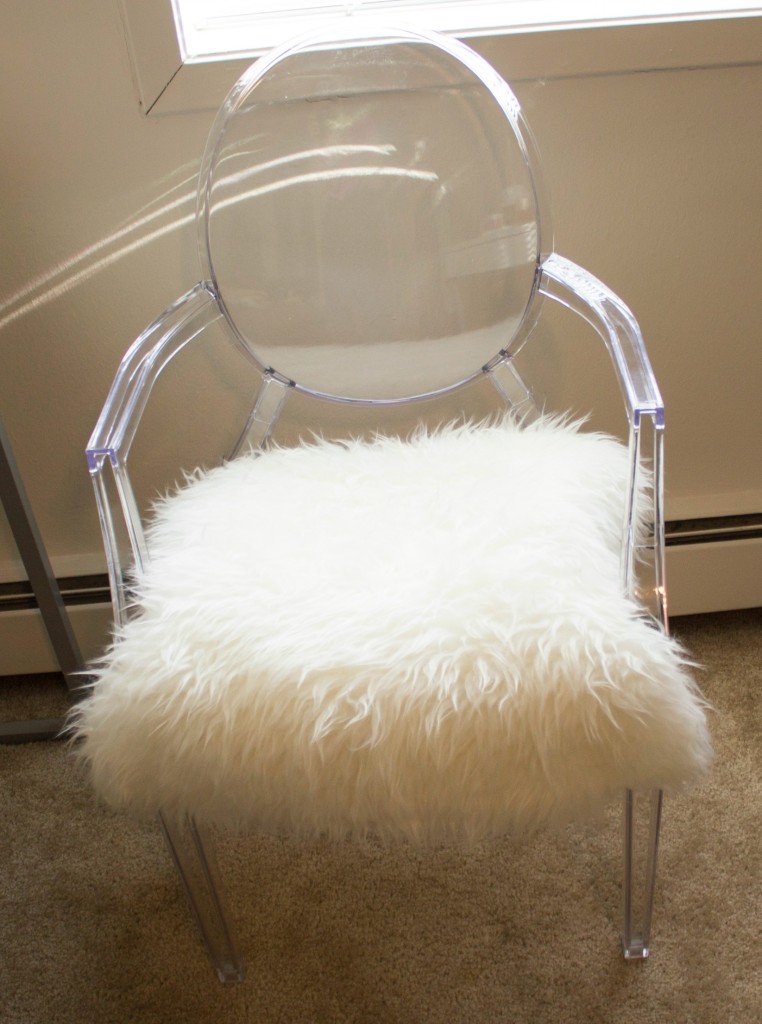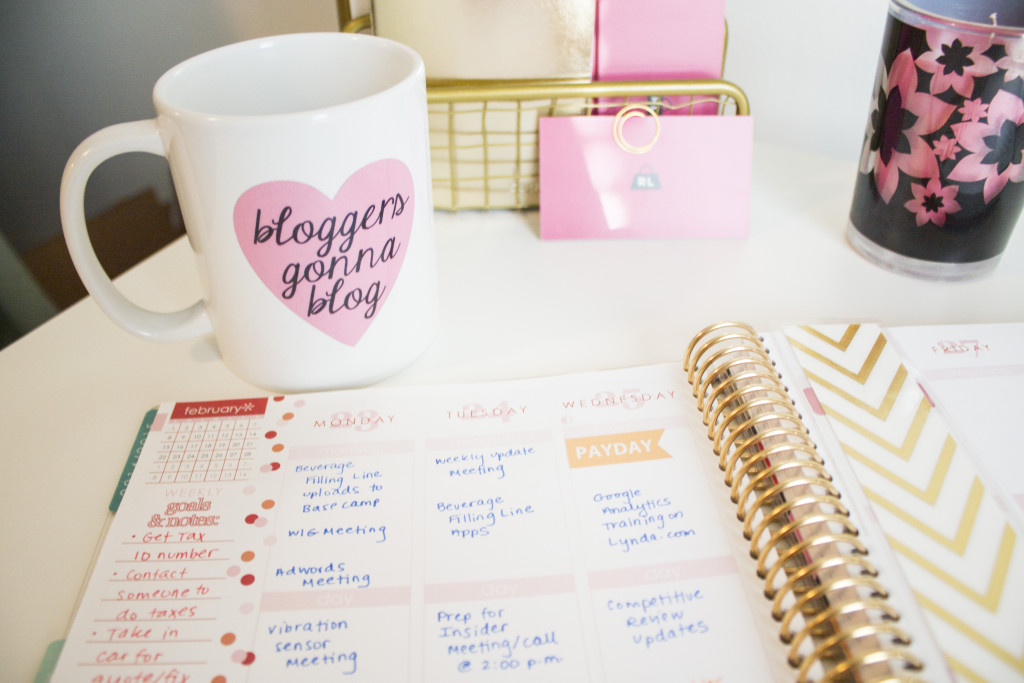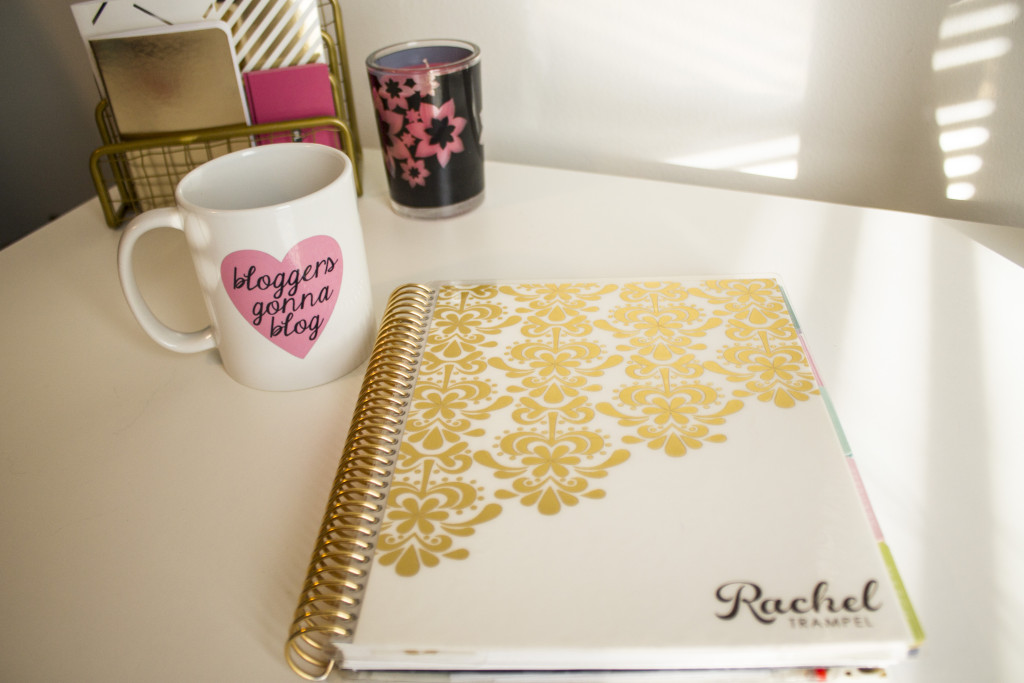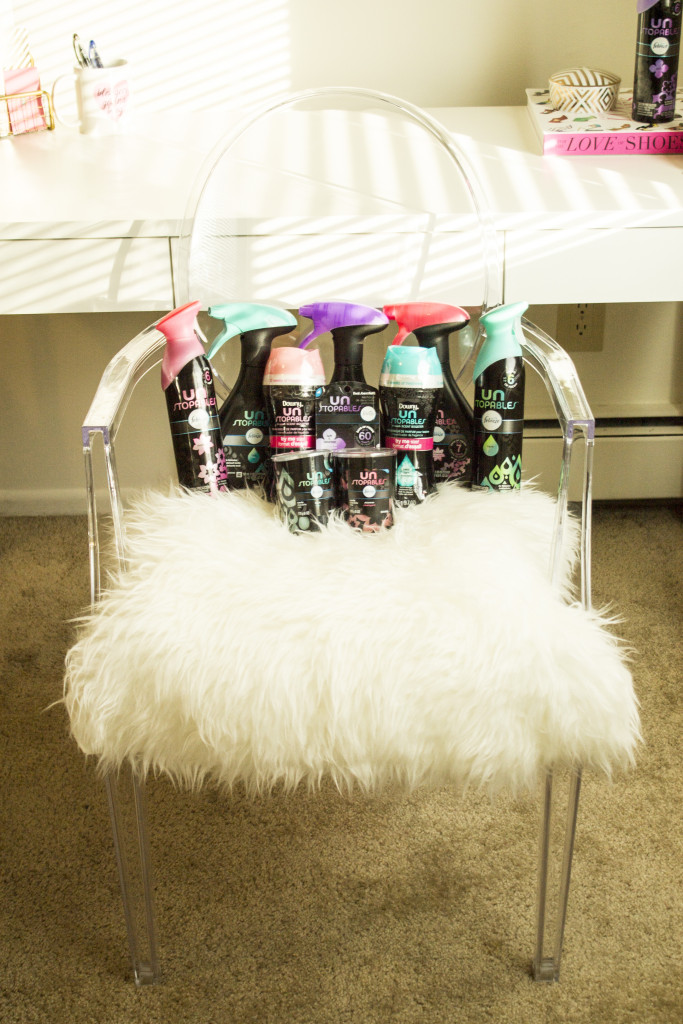 Functional & Stylish Seating
One of the easiest ways to personalize your office space while making it functional is to add the perfect office chair. For me, I knew I needed a ghost chair in my life. Adding a faux fur white sheepskin rug as a cushion makes it more stylish and also gives that extra layer of comfort. Spraying the rug with Unstopables Febreeze keeps the whole area smelling fresh and clean.
Organization
Every desk needs organizational elements – from my custom planner to my notebook holder, having an organized space allows me to focus on writing, blogging or creating. We recently re-organized our department at work, and ever since I have been able to be more productive from being in a clean work environment, I knew how important it would be to carry over this organization to my home office space.
Candles
Candles make everything better – am I right?! Adding a candle to your area doesn't only add a nice touch of décor and style, it also can help lighten the area and give off a great fresh scent. The Unstopables candle is a great addition to any desk setting.
Motivating Art
Motivation is such an important element of an office area – feeling motivated at your desk will help you accomplish as much as you possibly can. My bloggers gonna blog mug makes me feel excited to sit down and starting blogging – and there are plenty of art pieces out there that I want to add to the gallery wall I'll be creating above my desk. A little motivating statement can be a great addition to your space.
Make the Space Your Own
Nate Berkus is a smart man – he said that everyone deserves to live beautifully and "by adding small, thoughtful touches, you can transform any room into a haven. Simple things like crisp white sheets on a bed, a small vase with flowers and water on your nightstand, you can make a bedroom feel luxe." My office is set up in my bedroom – so it is an expansion of the beauty I want to express in my own personal space and the fresh scent that makes me feel relaxed and happy. By adding a book about shoes, having beautiful notebooks for notes and having a faux fur throw on my ghost chair, the space feels completely me. Fun and feminine, yet simple.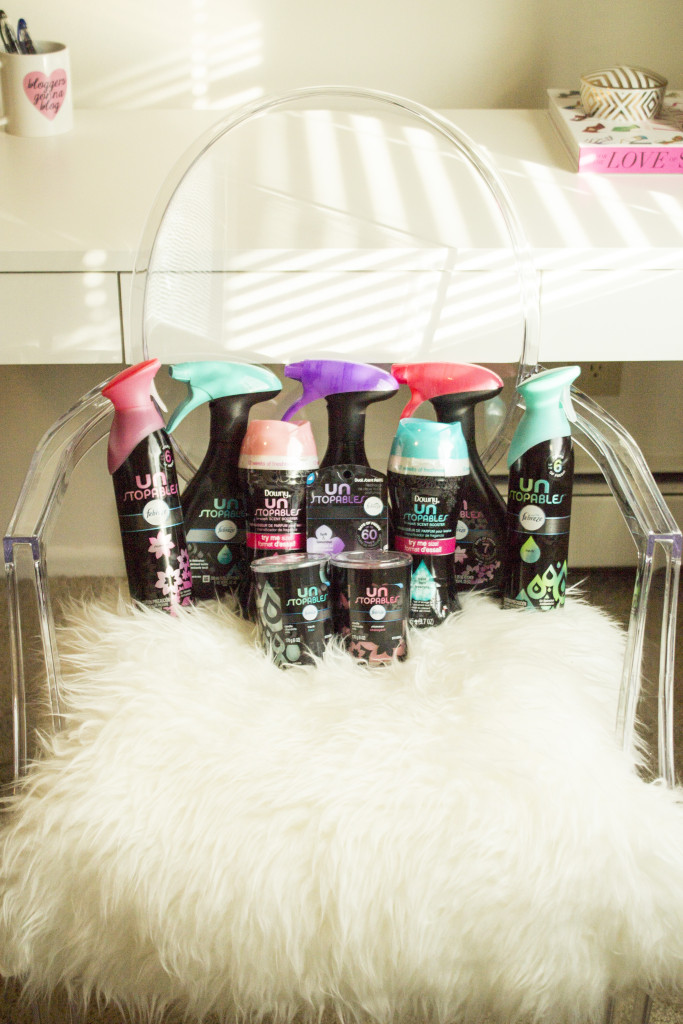 So there you have it! A few simple tips to set up and make your office space a perfect cross of function and style with your own personal scent décor! Unstopables is not just about lighting a candle or spraying a scent, it is about styling your own personal space through scent décor – that finishing, fragrant touch for evoking that elusive, unexpected luxury to your own design aesthetic.
Monogram notebook // Letter Sorter // Gold Notebooks // Patterned Notebooks // Chair // Rug on Chair
I was selected for this opportunity as a member of Clever Girls and the content and opinions expressed here are all my own.