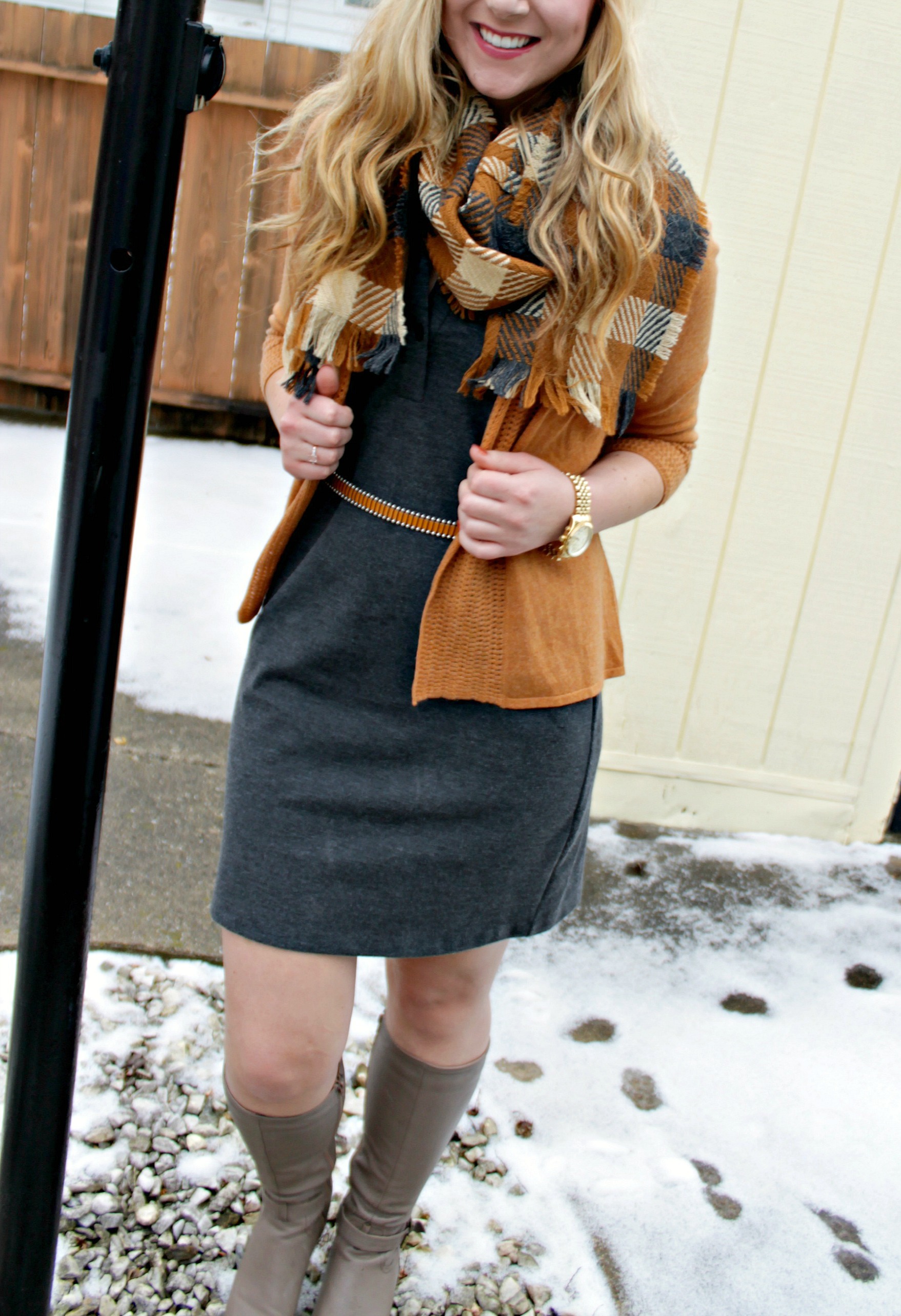 Here's what I wore for Thanksgiving this past weekend with my family in Iowa. It was a great time, as it always is, but flew by way too quickly. I can't believe we were almost there for 8 hours, it felt like only a couple (and yet 8 hour work days drag on…). Anyway, the best part about this outfit is I thrifted every part except the boots! My coworkers and I went to Goodwill over lunch on Friday and I ended up finding all of these pieces separately and realizing they went together for a very matchy-matchy outfit (minus my purple star and blue socks) and perfect as we were planning on asking my family to snap some photos of us for our Christmas card. So this thrifted Thanksgiving outfit is also now my Christmas card outfit!
Cardigan, Goodwill (Similar) // Dress, Goodwill (Similar) // Scarf, Goodwill (Similar) // Belt, Goodwill (Similar) // Boots, JustFab – Sold Out (Similar) // Watch, Micahel Kors c/o ShopBop // Ring, c/o JTV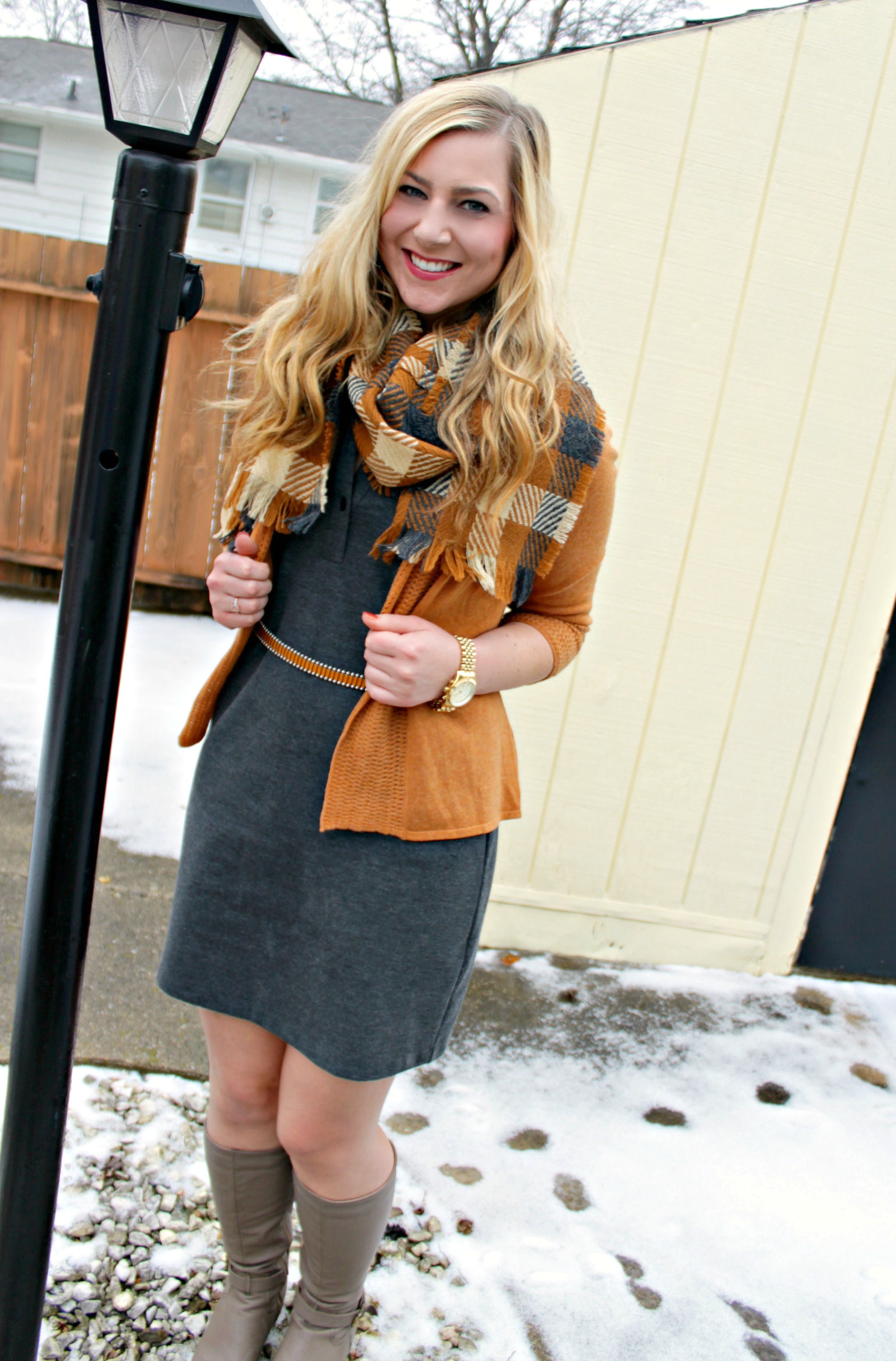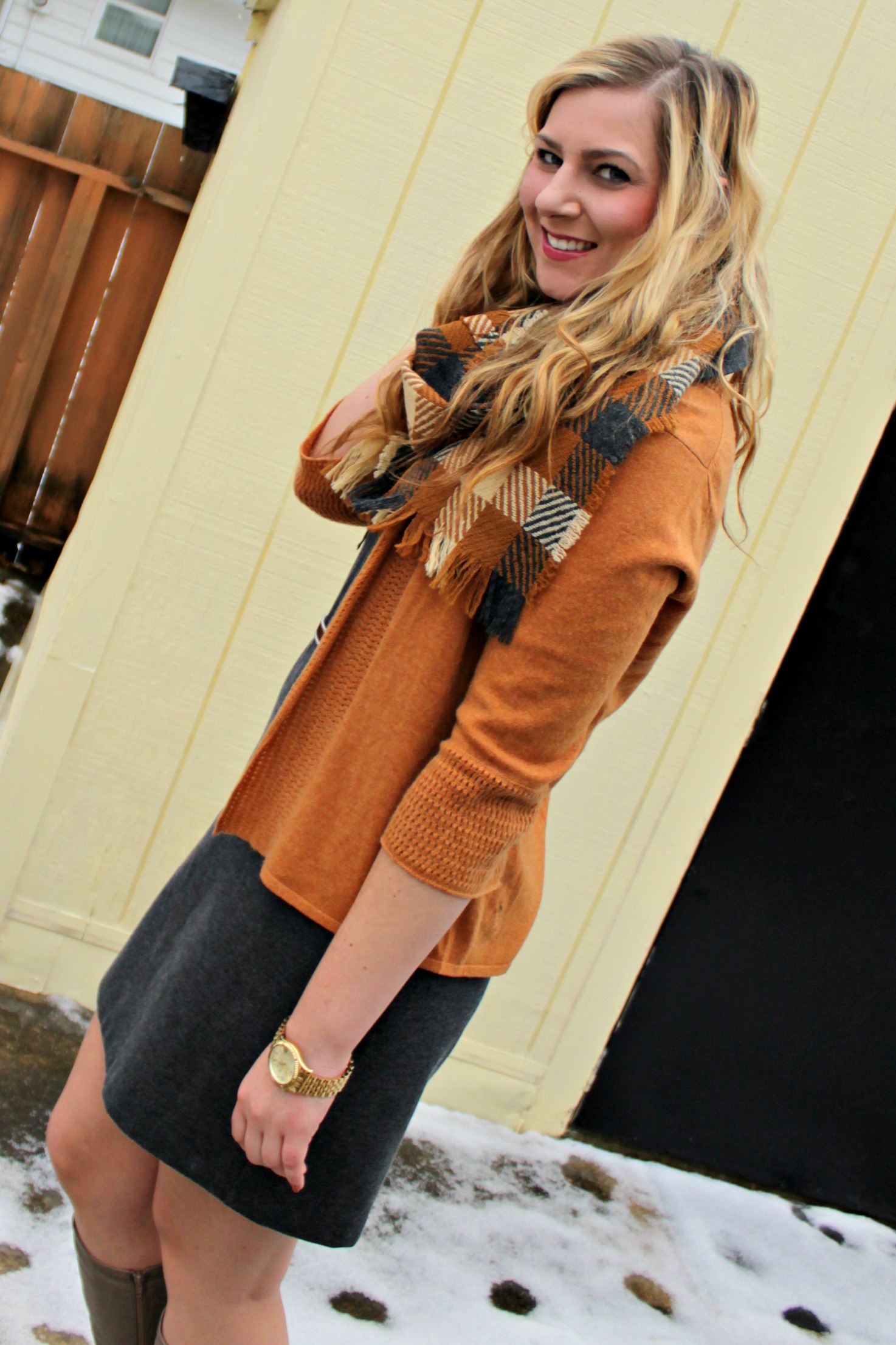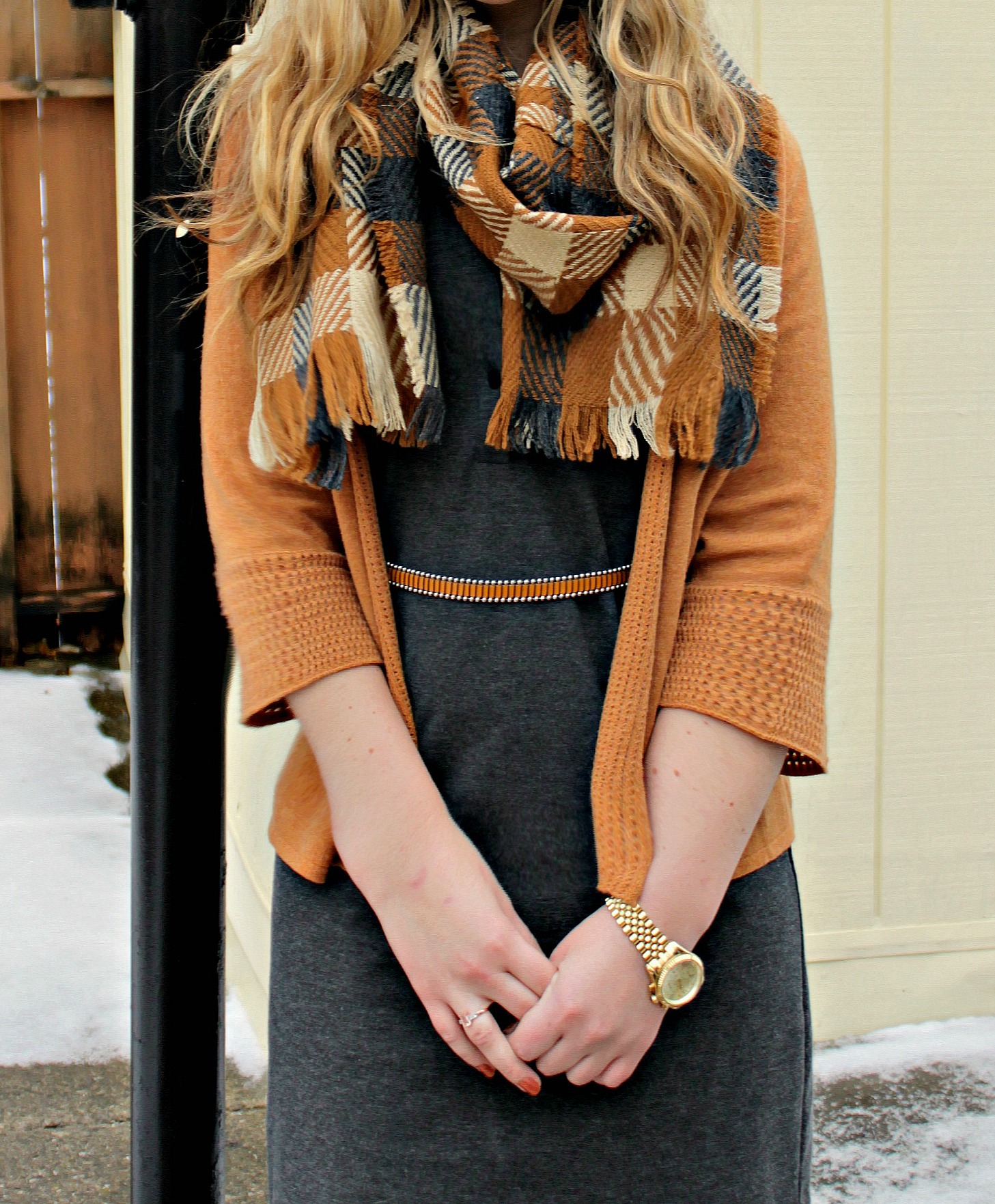 And this is what Emma wore! (Yes it is her in her coat again)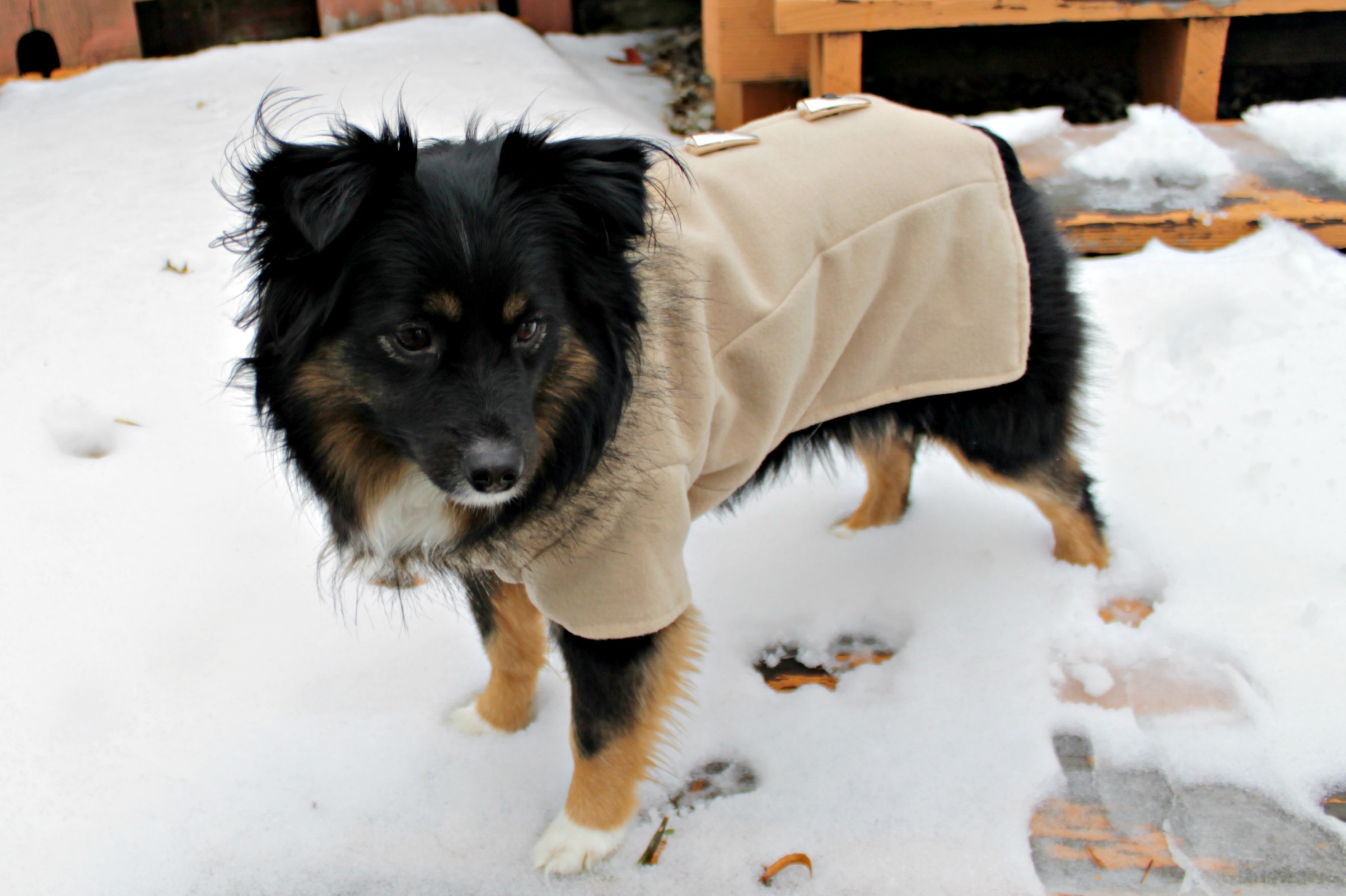 Now, some more outfit ideas for what to wear on Thanksgiving: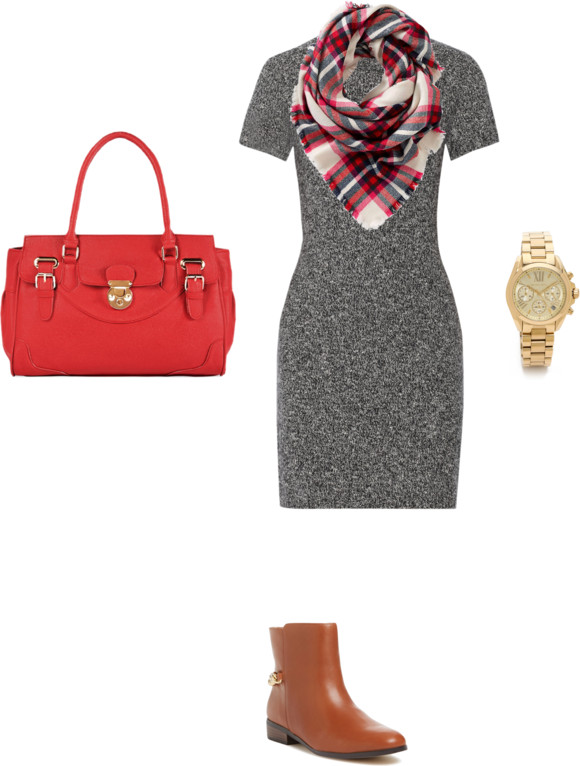 A casual, yet sophisticated look for Thanksgiving, pairing a nice sweater dress and blanket scarf makes you look put together and is great for any family or friend photo opportunities.
Dress // Scarf // Booties // Handbag // Watch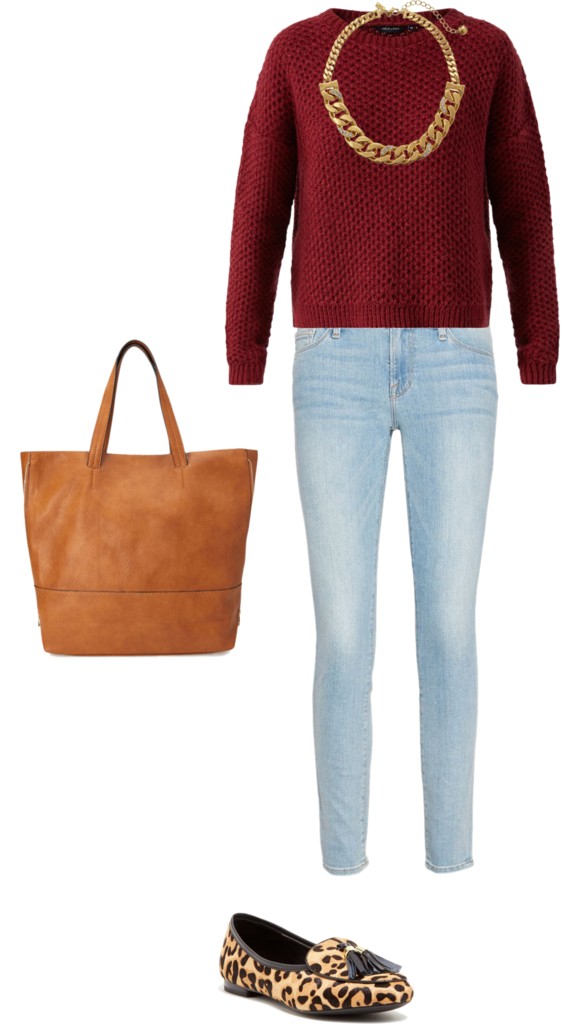 If you want a super casual, yet chic outfit, opt for a nice sweater, jeans, tote and some cute loafers of moccasins (leopard print of course)! I will probably be wearing something similar since we aren't doing anything too fancy for Thanksgiving this year!
Sweater // Jeans // Loafers // Tote // Necklace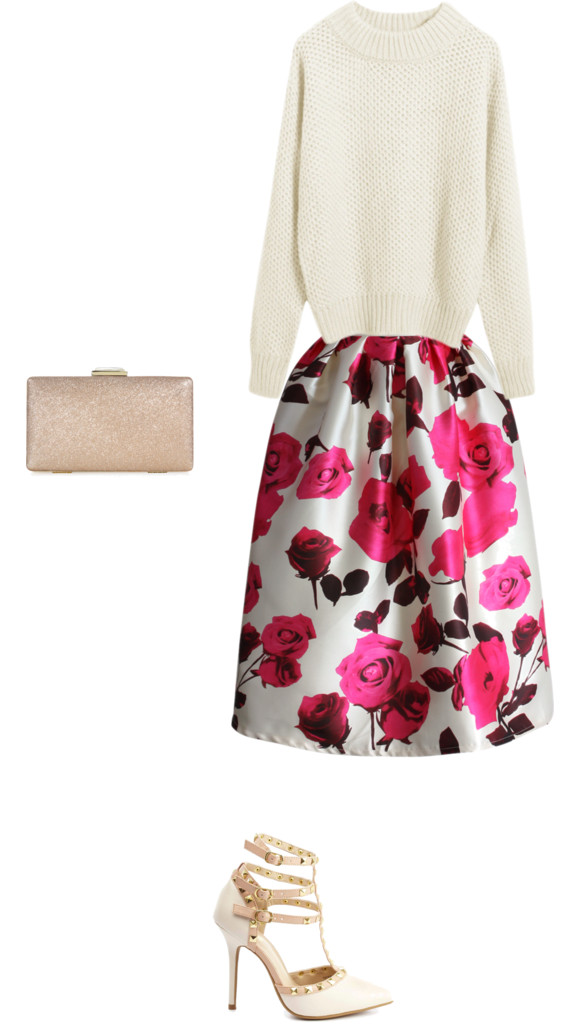 If you are getting fancy for Thanksgiving, a floral print midi + sweater and a killer pair of heels makes the perfect outfit, no matter where you'll be.
Sweater // Skirt // Heels // Clutch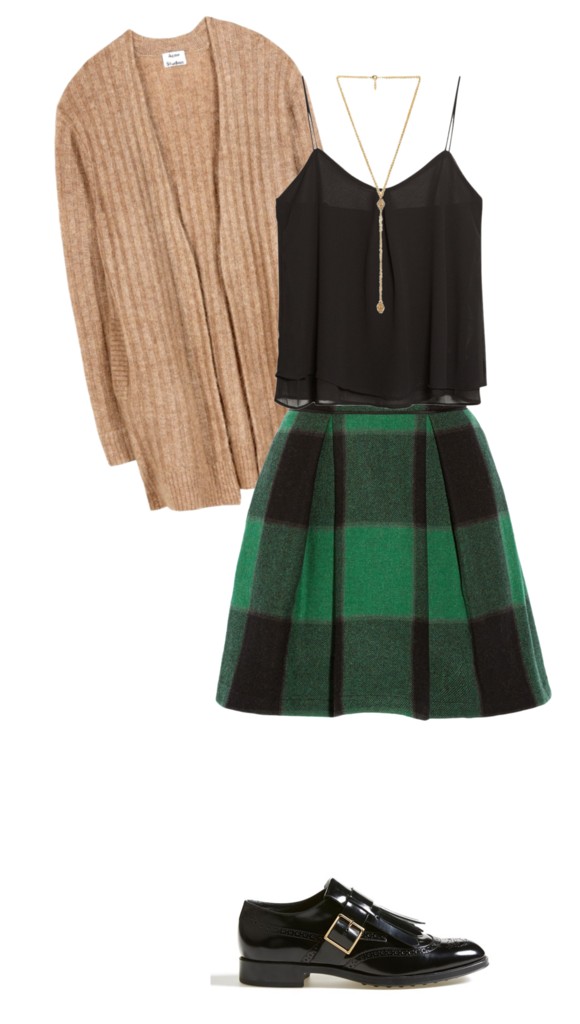 If you are looking for something different, why not mix green, black and camel or create your outfit around a beautiful plaid skirt paired with oxfords! I love this color combination and it slightly makes me think of Clueless!
Sweater Cardigan // Tank // Skirt // Oxfords // Necklace
What will you be wearing for Thanksgiving?!
P.S. SHOPBOP is having one of the biggest sales of the season! This sale lasts an ENTIRE week, starting today (ends Monday, December 1 at 9 p.m. Eastern time). There are no brand exclusions and with this sale the more you purchase, the better the savings!
Spend $250 = 15% off
Spend $500 = 20% off
Spend $1000 = 25% off
Use code GOBIG14 at checkout. So what are you waiting for, get a head start on your Christmas shopping and head over to ShopBop! You can also shop the sale for your guy at East Dane!
Don't forget to enter the 10K rose gold morganite ring giveaway!