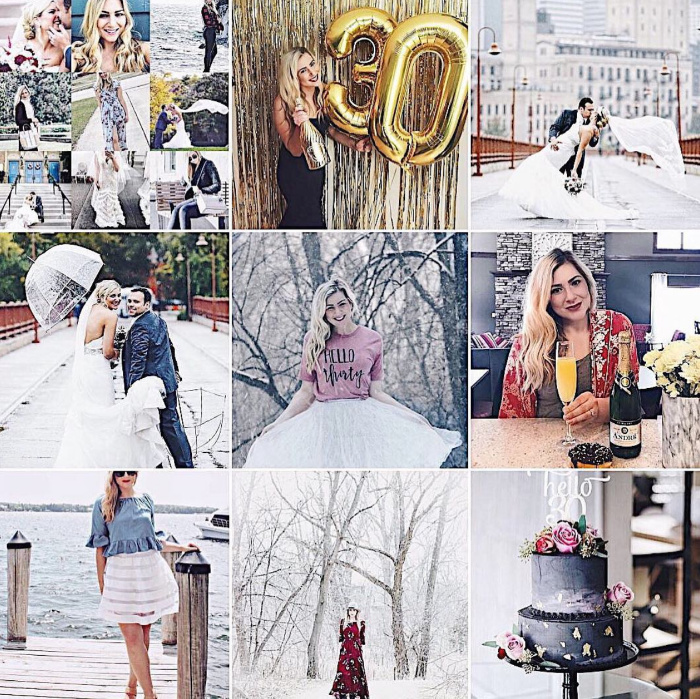 I wanted to reflect on 2018 in a positive light, even though I am SO happy we are in 2019 now! I think the best thing I can do to keep my mind in the right place is to remember all the positives that have occurred over time and be thankful for each and everything in my life. It's also great to look back at what you did accomplish and celebrate it! With that, here are are some of my top 2018 accomplishments and what I was proud of in 2018:
1. The most important goal that I achieved this year was…
I honestly didn't achieve any of the goals I "set" for myself at the beginning of 2018, but I still feel like I achieved some important things this year. The most important goal I accomplished was remaining strong in the hardest times and making my mental health a priority. 
2. My biggest career accomplishment was…
I was really pushed in my career in 2018 and I'd like to think my biggest career accomplishment was knowing when to say no and stick up for myself. I'm bad at confrontation or asking for what's best for me (especially in a work setting), but this year, I asked for a bigger raise, I asked for more support at work and I was more honest at work than I've ever been. For me, all of this was a HUGE step in the right direction to find my path and what makes sense for my future. I learned so much about what I want for the future of my career and am thankful for the work life lessons I learned in 2018.
3. My biggest relationship accomplishment was…
I think in 2018 it was letting go of some of my selfish tendencies to focus more on my husband. That probably sounds really bad, but I have always had a tendency to be very independent and focus on my goals/aspirations without considering how it will truly affect my partner. We are a team and even though we went through some really hard times, I had to own up to the hundreds of mistakes I've made to become a better wife and put his needs first. There will always be room for improvement in being a better wife for my amazing husband, but I really focused on being more selfless versus selfish in 2018 and hope to continue focusing on the we versus the me.
4. An obstacle or a challenge that I overcame this year…
Accepting that I cannot control every aspect of my life, no matter how hard I try. In 2018, multiple challenges made it hard to believe in anything really. I went through a horrible bout of depression in 2018 that made it physically hard to move. I didn't want to talk to anyone or be around anyone. It was so crippling that getting up every single day was the most challenging thing. While it was hard, I got OUT of that deep depression, and while I still struggle with anxiety and depression every day, I got the help I needed and accepted that even though I can't control every aspect of my life, I can find meaning in it. I found meaning in the bad times and let it inspire and empower me to push myself to where I am right now, in the first day of 2019!
5. This year, I learned the following about myself…
I am not exempt from hard times, no matter how hard I work to be a good person, bad things happen sometimes. That I am not invincible. That I am NOT in full control all the time. But you know what? That's okay. Learning this about myself made me a better, more adaptable person. Today, I am inspired and ready to take on the new year in a way I never have before. As much as I hate to admit it, I have 2018 to thank for that.
6. The most fun I had all year was…
This is SO hard! I have so many times over the past year that I just had an absolute blast. From my 30th Birthday party bus to exploring New York City with one of my besties to our recent trip to Door County, Wisconsin with the dog, 2018 was full of many fun times! I can't pick JUST one haha! (Even though I did yesterday?)
7. My best memory of the year was…
I honestly can't choose just one! There were too many – and that's a good reminder that no matter what I went through in 2018, the positives were even greater!
8. My biggest regret of the year was…
Not leaving what I needed to leave sooner… more on this to come.
9. A TV show I really enjoyed watching this year was…
The Haunting of Hill House! I AM A HUGE Halloween fan and love scary movies. This television show on Netflix was not only an amazing, scary TV show to watch during October, it also had a lot of meaning – exploring death, suicide and the complexities of family. Some moments are hard to watch, but I highly recommend it if you haven't seen it!
10. I really enjoyed this live performance (concert, play, musical, or dance performance)…
It wasn't just one person or band – we went to Mainstreet Bar & Grill in Hopkins, MN several times this year and listening to the live music there on Saturday nights is ALWAYS so much fun. It's a great place for older folks like me to dance and have a good time 😉
11. Here's a song I listened to over and over again this year…
Well, I pretty much answered this yesterday in my 2018 Favorites post, but I'll mix it up by giving you two! Fake Love by BTS and Make Me Move by Culture Code ft. Karra.
12. This is the best thing I bought all year…
So is the best thing the same as my favorite thing, lol? Because I said our spice rack (even though it was actually a gift to my husband from my sister and bro-in-law as mentioned in my 2018 Favorites post). I would also say this crazy alpaca lady shirt because I am a crazy alpaca lady and I LOVE alpacas haha.
13. Someone I really enjoyed spending time with this year was…
My husband! I mean, it's hard to say anything past that, but this year we grew together more than we ever thought possible. While only being in our first year of marriage during 2018, we have been together close to 8 years (including living together for just as long), so it's amazing how much we have grown as a couple in just the past year. After everything we went through, it was also a nice reminder of how simply being together, no matter where we are, is the best THING in the world. He is my love, my soulmate and my best friend. He makes me happy in the darkest of times. He is selfless and always working to make my life better. He is my rock, and I couldn't have gotten through 2018 without him. Love you Joe!
14. I adopted this new positive habit…
Journaling – again! I used to journal all the time and it was a habit I needed to pick back up. For me, writing is MY life. It's what I love, it's why I majored in journalism, it's what I've done in my marketing career and it will always be my escape. To write my thoughts in journal really helps me reflect on my day-to-day life and what I need to focus on. To help me move past bad times and focus on what I'm thankful for. I hope to continue journaling in 2019 as a way to keep my mental health in a good state and to just generally do something I enjoy doing (outside of writing copy at work).
15. The scariest thing I went through this year was…
I took this template from someone else, so, unfortunately, I cannot go into detail on this. Let's just say it affected both my husband and I – both our mental and physical health. More to come someday, I promise.
16. My most common mental state this year was…
Unfortunately – anxiety. Anxiety ruled my mind for many moments in 2018. Again, much I haven't spoken to specifically, but when bad things happen, it takes a giant mental toll on you. I hope to get back into a good balance in 2019. I am naturally a very happy and positive person, so to be ruled by my anxiety made it hard to be my true self in 2018.
17. The nicest thing someone did for me in 2018 was…
Wow, this is hard. I HAVE SO MANY people in my life that do SO many nice things for me. Seriously, so thankful to my family, friends, my husband, etc. but I will say this year that my little sister and brother-in-law coming to Vegas just for two nights to hang out with my husband and me for my 30th birthday meant SO MUCH. We had a blast and it was so thoughtful for them to spend the money to fly there and be with us even though they both had crazy work schedules at the time!
18. What I am most grateful for in 2018 was…
Family and friends. Each amazing moment of 2018, and every year before that, has been because of my family and friends. My family continues to grow and my friends continue to love me no matter what mistakes I've made. I've been so blessed with the most amazing people in life.
19. Here are three words that would sum up this year…
Perseverance. Growth. Opportunity.
20. If I could travel back to the beginning of the year, here's some advice I would give myself…
Give yourself time. Allow yourself to heal. Don't allow others to define who you are. Don't allow the negativity to change you. Don't give in to the games people play. Be gentle on yourself, but also don't forget who you are. Keep working toward your dreams and goals. Love yourself so that you can love everyone else in your life the way they deserve to be loved.
Happy 2019 my friends! Looking forward to making this my best year yet.