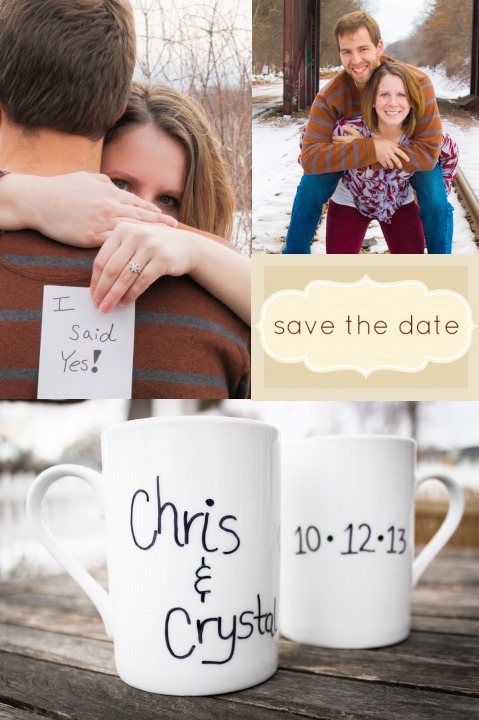 Well here it is, my sister's save the date that I created for her! Pretty simple and honestly the hardest part was choosing what photos to use. They actually choose the first save the date I created … and I started out with something very simple, but that is totally their style. I just wanted to choose photos that told their story. I think it works and here is a little more detail of their story:
On a cold day in November, my sister was heading home from work, expecting to go pick up her boyfriend from the Milwaukee airport.  He called her before she left, making sure she was stopping home to change and relax before picking him up because his flight was behind schedule. She had been separated from him and her two cats for almost 4 months. When she got home from work, expecting to change quickly and head out, she saw a pair of glowing eyes starring at her. She was pretty freaked out at first, but quickly realized it was one of her loves, one of her cats. As soon as she flipped on the lights, he came out holding her other cat with a ring attached to her collar. He got down on one knee and asked her to marry him. She, without hesitation, said YES! (the photo in the save the date says so).  So obviously he had been planning this for awhile, with a fake flight, when really he was preparing on a driving trip all the way from North Carolina to Wisconsin with her cats to surprise her. What a guy, right?! They have always had a quirky, fun relationship, so the piggy back photo suited them well (and of course with him on her back… they wanted it this way). They will exchange vows on October 12, 2013. And yes, they have the cutest pair of names: Chris & Crys… Chris & Crystal!
So there you have it… if you want to save some money and just have a simple save the date, I'm sure you know SOMEONE with some InDesign or graphic design experience. It really helps when you are trying to plan a wedding on a tight budget. I am NO graphic designer or claim to be, but I did take a class in college on how to use InDesign, Illustrator and Photoshop and somehow I came out with an "A" after several design projects… I guess this was good enough for her to ask me to do this! Plus, I enjoy it (even though I spent a good 6 hours making different versions and trying to perfect each one) and the photographer (aka my boyfriend) took some great photos, making my job a heck of a lot easier! Here are some of the other ones I drafted up for them to choose from: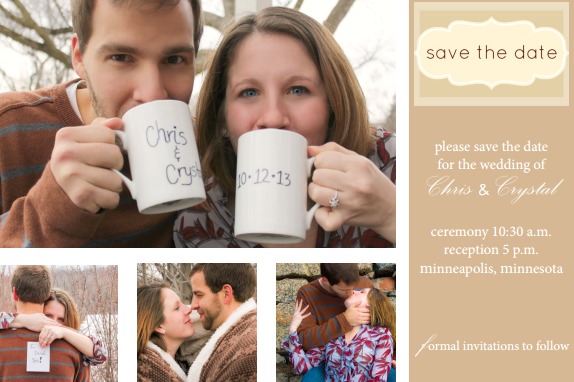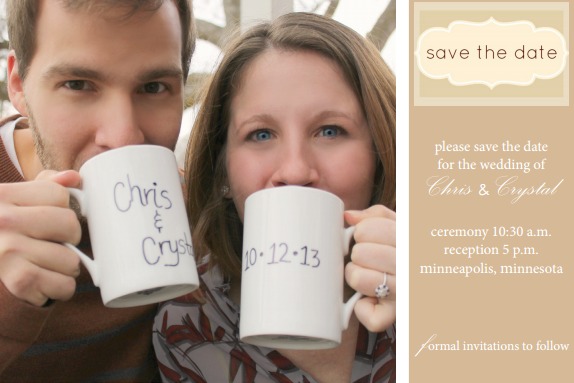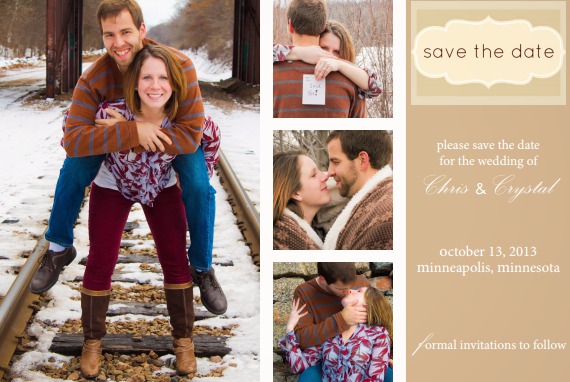 She also found an amazing deal on Groupon through VistaPrint and will be able to share more of the details on the back of the save the dates, such as location, times and formal invite to follow. Next I will be working on her formal invites, incorporating the navy and yellow colors of her wedding. If you would like to read more about her wedding and how I'm helping plan, you can see the first two posts here and here.