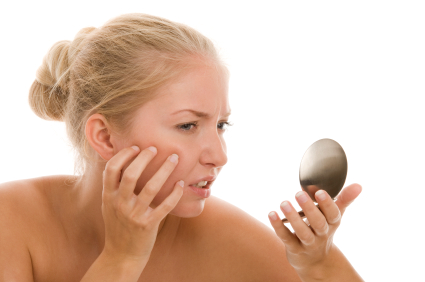 Today I am going to talk about that ugly four letter word none of us really want to talk about – acne. And yet I feel most people I know have dealt with some type of acne, regardless of the severity. I want to talk about my acne story because  I want other women out there to know that I'm still struggling with it at 25 and if I had a good guess I will probably still be struggling with it in my 30s.
There are a lot of great home remedies for acne out there, and I would love to try a few more, but for now I am looking for anything to help that I can easily use in my morning and nighttime routines. There are also these 20 home remedies for getting rid of pimples fast. I started breaking out pretty severely my junior year of high school, which has already been over 8 years ago. My mom scheduled a dermatologist appointment for me and I was immediately put on a benzyl peroxide.  Since then it has been a constant up- and downhill battle between good days where I wake up with only a couple blemishes to bad days where I can count more than 10 severe break outs. I've been on Differn Gel, Epiduo, drugstore benzl peroxides and any and all cleansing systems including Proactiv and some of the drugstore versions. Nothing has totally, fully and completely worked.
My best experience was my senior year of college where I decided to start taking a pill along with an oral prescription. I was placed on Spironolactone and was using Epiduo at the time . My skin has never ever been that clear. I actually didn't mind the way I looked when I woke up in the morning! But I think the BIGGEST and most IMPORTANT factor during that time was my mood and my stress level. I was happy and about to graduate college, so my stress level for classes was pretty low. Of course I wanted to pass, but I was pretty confident I would pass my final classes with flying colors. There were a lot of exciting times coming up and I was really enjoying my last moments with college friends.
Then I entered the real world and found out what it was like to have my own health insurance and schedule these appointments for myself. Moving to the Minneapolis area and starting in a sales position was enough change for me, so I didn't schedule an appointment with a dermatologist for over 6 months. My skin laughed in my face as it began to break out again from stress and the lack of care and attention.
So here I am again, 3 years after I was as close to my ideal skin as possible, trying to start over. I just started using Spironolactone again and am now using Aczone, which was REALLY expensive even after insurance — so I am going to do a full review on it after I have time to see the results (it has only been about a month and my stress level has been at an all-time high). Anyway, it is supposed to be good for acne at all ages and has had good results for women and hormonal acne (which along with stress is my other big factor in breakouts). I am willing to spend what it takes to have clear skin because I would love to wake up and go do something without feeling like I need to put on makeup.
Anyway, my long skin story short, I just wanted to share that I have learned over the years how to apply makeup to cover up my blemishes and acne scars, but my skin is not perfect. I am also realizing as I get older that a complete HEALTHY lifestyle is what is going to help me reach my goals to wear less makeup! The more I exercise, the happier and better I feel and the less I stress. Taking good care of myself by drinking lots of water, eating good foods and washing my face morning and night will help me as well.
So if you see my skin and think it looks perfect, it is only because I have become a pro at hiding my acne/scarring. Even my friends say they wouldn't know that I have bad skin because they think it always looks glowing, but here is what goes behind that:
Of course, I also put on some bronzer or blush before the finishing powder, but those four products are really want helps me cover. I like to experiment with make up, but during the day my favorite look is a more natural look.  So now tell me, what is your story? What do you use to hide breakouts or what do you do to keep your skin clear?